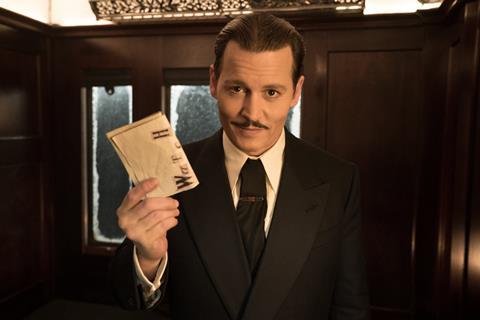 Murder On The Orient Express opens in 57 territiories, while Thor: Ragnarok crosses $500m globally.
Kenneth Branagh's adaptation of Agatha Christie's classic, Murder On The Orient Express, will debut in 57 territories day-and-date with the US this weekend through Fox International. The film has earned an early $8.9m from the UK, which was the sole market released last weekend. Branagh also stars alongside Penélope Cruz, Willem Dafoe, Judi Dench, Johnny Depp, Josh Gad, Leslie Odom, Jr, Michelle Pfeiffer, and Daisy Ridley.
Kingsman: The Golden Circle continues its push towards the $300m international mark. Matthew Vaughn's sequel currently stands at $291.3m internationally, with no new openings this week. Idris Elba and Kate Winslet survival drama The Mountain Between Us has reached $19.9m as it debuts in five, including France.
Thor: Ragnarok crossed the $500M global mark yesterday, becoming the 12th consecutive Marvel Cinematic Universe film to reach this threshold and the 14th to do so out of 17 films total. Taika Waititi's film has amassed $354.4m internationally and $$502.3m worldwide through Walt Disney Studios Motion Pictures International.
China is the top grossing market on $69.8m, and already exceeds 2013's Thor: The Dark World's $55.3m gross in the market. The UK is second on $29.4m, followed by South Korea $27.1m, Brazil $20.8m, Australia $17.4m, France $15.7m, and Mexico $12.7m. Chris Hemsworth returns as the god of thunder alongside Tom Hiddleston, Mark Ruffalo, Cate Blachett, Idris Elba, Tessa Thompson, Karl Urban and Anthony Hopkins.
Cars 3 has reached $229.4m and is completely opened.
Warner Bros Pictures International's Geostorm has reached $160.8m at the international box office. Dean Devlin's action film has no new openings this week, after debuting in France and Italy last weekend. Horror smash It has grossed $353.3m internationaly while The LEGO Ninjago Movie stands at a lacklustre $61.9m and has no new openings.
Sony Pictures Releasing International's Blade Runner 2049 has reached $157.3m. Denis Villeneuve's sci-fi sequel starring Harrison Ford and Ryan Gosling has no new debuts this week. The Emoji Movie heads into the weekend on $128.9m with no new openings.
Jigsaw has reached $31.9m internationally through Lionsgate International licensees. The latest instalment of the Saw franchise debuts in Japan and Mexico this week.
STXfilms' A Bad Moms Christmas has earned $11.3m as it heads into Germany this week. John Lucas and Scott Moore return to direct the sequel. Mila Kunis, Kathryn Hahn and Kristen Bell also reprise their roles. 2016's Bad Moms grossed $70.7m internationally, with $11.7m coming from Germany.
Paramount Pictures International's mother!, from Darren Aronofsky, stands at $26.3m with no new openings, while animation Tadeo Jones 2 has reached $21.5m.