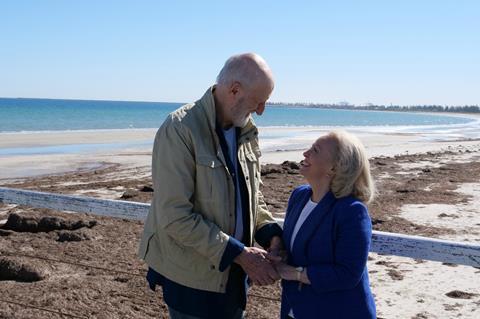 Kirk D'Amico's Myriad Pictures has closed a US deal on upcoming EFM screening Never Too Late and has announced previously unreported international sales on the Australian comedy starring James Cromwell and Jacki Weaver.
Blue Fox Entertainment has acquired US rights to Mark Lamprell's (My Mother Frank, Goddess) tale about a band of retired Vietnam War veterans who plan to break out of their retirement home and reunite their friend with his lost love.
Dennis Waterman (New Tricks, The Sweeney) also stars in Never Too Late, which Lamprell directed from a screenplay by crime novellist Luke Preston.
D'Amico also reported sales to Middle East (Eagle), China (Jetson Huashi), Indonesia (Falcon), Hungary (ADS), former Yugoslavia (Star Media), Czech Republic (Vapet), Africa (MNET), Eastern Europe (HBO) and Cinesky for airlines.
Myriad screened the film for the first time at the AFM and will do so again in Berlin, where many of the European buyers will get their first chance to see it.
"We are very pleased that Blue Fox Entertainment will be releasing this stirring comedy in the U.S. this summer," said Myriad president and CEO D'Amico. "We all believe the film targets an underserved market and expect audiences will enjoy a fresh approach to the traditional 'escape' movie."
Antony I Ginnane and David Lightfoot produced Never Too Late, which is an FG Film Productions feature with principal production investment from Screen Australia in association with Elevate Production Finance and the South Australian Film Corporation.
The film will be released theatrically in April in Australia and New Zealand via R&R Films. Pacific Northwest Pictures will release in Canada alongside Blue Fox.