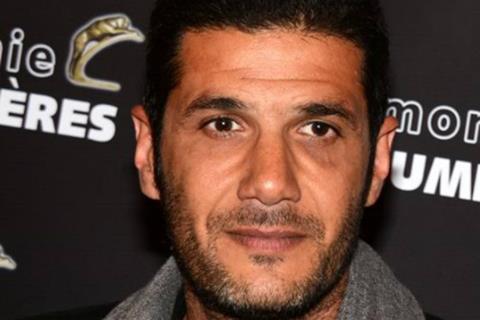 MIPTV and Canneseries have unveiled the 16 projects due to be presented at the second edition of their In Development pitching event, a key component of their joint initiative the Cannes Creative Drama Forum.
Aimed at fast-tracking drama series production the forum, running during Canneseries (April 5-10) and MIPTV (April 8-11), marks its second edition this year.
he selection includes Nabil Ayouch's upcoming thriller Black-Out, produced under the banners of his Casablanca-based Ali N'Productions and Paris-based Les Films du Nouveau Monde.
It marks a first foray into high-end TV drama for Ayouch after award-winning features Horses Of God, Beloved and most recently Razzia.
Ayouch describes it as a high-concept, eight-hour, eight-part series taking place sometime in the near future on the border between Morocco and Spain's north African enclave of Ceuta, which has been the scene of real-life tension amid the global migrant crisis as people try to crossover.
The drama will unfold over the course of one night and be triggered by a massive outage, which disables the electrified barriers between the two territories.
Ayouch says the series will raise questions about human behaviour around the contemporary issue of modern-day mass migration.
"It stresses a number of questions," he told Screendaily. "When the gates open and man is face to face with himself, when there is no longer any law, when the fear of the other takes over, should we shoot, negotiate, barricade ourselves? Should we kill, hide or run?"
"Is morality still an issue when, on each side of the barrier, your future and that of your kin is at stake?
Other projects
Ayouch is set to direct from a script co-written with partner Maryam Touzani, who also starred in and co-wrote Razzia, and emerging Moroccan director and screenwriter Rita Quessar.
"Amine Benjelloun, my partner, and I will produce it with French and especially Spanish partners that we aim to meet in Cannes. The cast will mix Spanish, Moroccan and French actors and dialogue," he adds.
German production company Watchmen Productions, which works regularly with Karim Ainouz, will present Rolf Roring's Crashers about a suicidal Berlin bartender who is given a new lease of life by a motley crew of colourful expats living in the city.
Pan-nordic high-end TV and cinema production house Cinenord is bringing suspense thriller Ice Valley, revolving around the disappearance of a student in the Isdalen Valley near the city of Bergan in Norway. Silje Hopland Eik, who is also working on Cinenord's ambitious Atlantic Crossing series, is producing with Cindy Hanson.
Paris-based TV production company Federation Entertainment (The Bureau), will co-develop, co-produce and distribute one of the selected projects.
"The TV series is a genuine laboratory of creativity, and events like In Development, which put creatives at the heart of the business, are essential to engender the hits of tomorrow," said Pascal Breton, founder and CEO of Federation Entertainment.
French investment fund La Fabrique des Formats will offer financing for up to two series from the selection backed by a French producer or co-producer.
"We are very proud of this year's selection which is particularly diverse in terms of genres and countries represented. noted Laurine Garaude, director of television at Reed MIDEM, which organises MIPTV.
"The success and relevance of a forum like In Development speaks for itself. The proof is in the fact that we received a new record number of submissions," said Benoît Louvet, managing director of TV festival and industry meeting Canneseries.
An international jury of drama experts shortlisted the projects from a record 376 submissions from 41 countries.
Th jury included Ash Atalla, managing director at the UK's Roughcut Television; Studiocanal TV managing director Rola Bauer; Tiago Mello, executive producer at Boutique Filmes in Brazil; Stephen Mowbray, head of SVT International, Sveriges Television and Vanessa Shapiro, president, WW TV Distribution & Co-Production, Gaumont Television in the US.
In Development Official Selection
Drama Producers' Pitch
10 Bullets, produced by plays2place (Gre, Ser)
A Good Year, produced by Mockingbird Productions (Bel)
Black-Out, produced by Les Films du Nouveau Monde and Ali N' Productions (Fr, Mor)
Crashers, produced by Watchmen Productions (Ger)
For The Sake Of The Child, produced by United Studios of Israel (Isr)
Ice Valley, produced by Cinenord (Nor)
Perfect Monsters, produced by Pimienta Films, Telegrama Audiovisual and Tita Productions (Mex)
RadicaL Eye, produced by Pinball London (UK, Mex)
Second Life, produced by Omnicorp Estudio (Sp)
The Mandela Effect, produced by Tshedza Pictures (S. Africa)
Transport, produced by Tekele Productions (Fin)
Twenty-Four Land, produced by Ukbar Filmes (Por)
Drama Writer' Pitch
Black Times, written by Sabrina Amerell and Alexandre Manneville (Fr, Ger)
Hello Dolly, written by Johnny Maginn (UK)
Kinks, written by Rachel Feldman (US)
The Tribe, written by Agata Koschmieder (Pol)