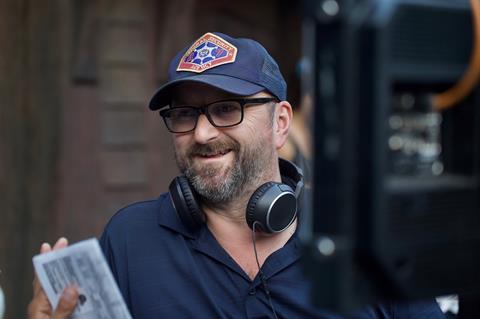 British director Neil Marshall, whose latest film The Reckoning opens the virtual Fantasia International Film Festival on Thursday (August 20), has issued a statement denying extortion allegations in the wake of Ron Meyer's departure from NBCUniversal.
Hours after deciding with the festival to pull out of tonight's post-screening online Q&A so as not to distract from the film, the filmmaker issued a statement in which he lambasted as "a load of old bollocks" a media report on Wednesday night implicating him in an attempt to extort the entertainment mogul.
The allegation is connected to the imbroglio surrounding Meyer's exit due to an alleged affair years ago with Charlotte Kirk, the British actor who is now Marshall's fiancée.
Separately, last year Warner Bros chairman Kevin Tsujihara stepped down after it was reported that he had had a relationship with Kirk.
NBCUniversal had not commented on the extortion allegations or Marshall's denial when reached by Screen.
Marshall's statement to Deadline Hollywood appears below:
I am a filmmaker, lucky enough to have had moderate success and keep working for almost 20 years now. And any of my friends, anyone who's worked closely with me, anyone who knows me personally, and not just as some name in a headline, will know that what's being said about me is a load of old bollocks.
In case that doesn't make it clear, the allegations concerning myself, Ron Meyer and NBC/Universal are nothing but lies based upon falsehoods. There isn't a grain of truth to this story, so I urge you, don't just look at a headline and take it as gospel. Certain websites believe they can publish whatever scurrilous garbage that is fed to them with impunity. Such provocative nonsense doesn't deserve my time, or yours. The trouble is, those lies are out there now, and my career and reputation have already been irreparably damaged by them.
For too long now a tightly knit group of morally corrupt dinosaurs has ruled the roost here in Hollywood, their extinction date long overdue. Thanks to the #metoo movement, and every resignation and revelation it has brought about, things are changing for the better. What we need now is more women in charge of studios, and the absolute abolishment of the terrible casting couch culture (which has morphed into sexual predation) that has long been an accepted part of the business.
What we have here is a witch-hunt, plain and simple, perpetrated by overprivileged men in positions of power, aided by friends of equal standing and lack of ethics, fuelled by clickbait headlines such as we've seen these past few days, and carried out against the woman I love, my fiancé Charlotte Kirk. I am simply collateral damage, thrown to the wolves by using some trumped up malicious allegations as a smokescreen to distract the focus from the real villains here. Charlotte has had the guts to stand up to her detractors and not allow herself to be bullied into submission, and neither will I.