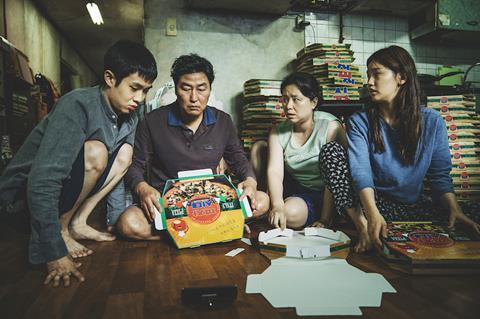 Neon has slotted two of its Cannes titles into the US awards season corridor, dating Bong Joon Ho's Palme d'Or winner Parasite for October 11, and Céline Sciamma's Portrait Of A Lady On Fire on December 6.

South Korea auteur Bong's "unpredictable tragicomedy" (as the director described it in a recent interview with Screen) will open in Los Angeles and New York as part of a traditional art house platform release for the director's follow-up to Cannes 2017 selection Okja.
Parasite stars Song Kang Ho as the head of a family in dire financial straits. When his son (Choi Woo Shik) is introduced to the Parks, a wealthy family headed by Lee Sun Kyun and Cho Yeo Jeong, the two families become entangled, leading to a series of violent mishaps.
Speaking in a recent interview with Screen, Bong said, "It deals with polarization – a universal issue. Even if you don't have a villain, bad things can happen. That's why it's an unpredictable tragicomedy."
Parasite marks the fifth collaboration between Neon CEO Tom Quinn and Bong after they most recently collaborated on the English-language thriller Snowpiercer when Quinn co-ran RADiUS-TWC.
Kwak Sin Ae and Jang Young Hwan of Barunson E&A Corp produced the Palme d'Or winner, and CJ Entertainment handles international sales and will distribute in South Korea.
Quinn boarded Parasite last October. In Cannes he teamed up with output partner Hulu to acquire Celine Sciamma's best screenplay award winner Portrait Of A Lady On Fire, and Neon has set a December 6 release in Los Angeles and New York. The film centres on the affair between a portrait painter and her subject in late 18th century France. Noemie Merlant and Adele Haenel star.