EXCLUSIVE/FILM BAZAAR: Nepal's Abinash Bikram Shah makes feature directorial debut with the project, which is selected for Film Bazaar's Co-Production Market.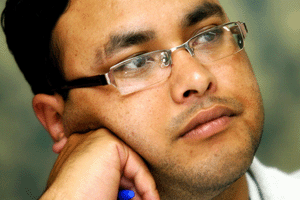 Catherine Dussart Productions (CDP) from France and Michael Henrichs' Die Gesellschaft DGS from Germany have boarded Nepalese writer and director Abinash Bikram Shah's Season of Dragonflies (Jhyalincha).
The film, selected for the Co-Production Market here, is about feisty fortysomething breast cancer survivor who has a tough decision to make after a devastating earthquake in Nepal.
Nepal's Icefall Productions and Shooney Films are also producing. Icefall producer Ram Krishna Pokharel is also attending Film Bazaar alongside Henrichs.
Speaking to Screen at Film Bazaar, Henrichs said, "The story resonated with me and I felt he was referring to something which had great value to him. It's a genuinely Nepali story on one hand and the emotionality of communication and overcoming crisis is a very universal theme. The advantage of a co-production at this early stage of an industry is that it facilitates knowledge and expertise sharing."
Shah makes his feature directorial after making shorts and writing features such as Deepak Rauniyar's Highway and Min Bahadur Bham's The Black Hen (Kalo Pothi). The latter, the first Nepali film selected for Venice, was also produced by CDP.
"I think what attracted both Catherine and Michael was the script, which is based on a very personal story," Shah told Screen. The project was awarded the CNC Development Award at Locarno's Open Doors in August.
Nepali films are booming at 2016 festivals, with Rauniyar's White Sun selected for Toronto and Pooja Gurung's short Dadyaa screening at Venice and Toronto.
Shah said, "There was a very strong influence of Bollywood and Hollywood narrative styles on Nepali films but thanks to the Internet we were able to access world cinema and began to find our own expression and our own stories. Some of us are not even film students but have learned filmmaking from the internet."