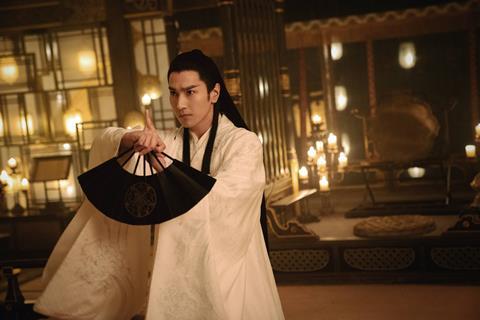 Fortissimo Films has sold Chinese fantasy film The Yin-Yang Master: Dream Of Eternity, directed by Guo Jingming, to Netflix for world distribution, excluding China.
The film, which stars Mark Chao (Saturday Fiction) and Allen Deng (Ashes Of Love), is scheduled for a wide theatrical release in China on December 25. Netflix will then launch it in more than 190 countries and regions on February 5, 2021.
Adapted from Japanese fantasy novel Onmyoji by Baku Yumemakura, the film tells the story of China's four best 'Yin-Yang Masters', who are called to the capital to slay the most powerful demon on earth who awakens every 100 years.
The novel has been one of Asia's most popular IPs since its publication in 1986, with multiple adaptations across comics, movies, TV dramas, Kabuki and video games.
The film is produced by Hehe Pictures, Zestful Unique Ideal, Thinkingdom Pictures, Shanghai Film Group and Black Ant Film. Olivia Wang (The Postmodern Life Of My Aunt) and Jessie Li (Port Of Call) also head the cast.
The creative team includes Japanese music composer Kenji Kawai (Ip Man 4), Korean VFX studio 4th Creative Party (Okja) and Chinese production designer Tu Nan (Legend Of The Demon Cat).