'The establishment closing ranks against us.'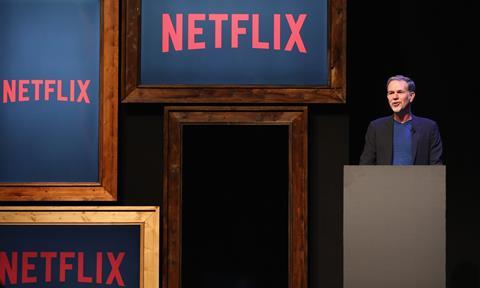 Netflix CEO Reed Hastings on Wednesday issued a strong riposte in the growing feud with French exhibitors with just one week to go before the festival kicks off.
"The establishment closing ranks against us," Hastings posted on Facebook. "See Okja on Netflix June 28th. Amazing film that theatre chains want to block us from entering into Cannes film festival competition."
His comment was in response to an announcement by the Cannes hierarchy earlier in the day that submissions from 2018 onwards will need to commit to a theatrical release.
For the first time Netflix has two films in Competition – Okja and The Meyerowitz Tales – and the National Federation Of French Cinema (FNCF) has led the charge against what it sees as an assault on France's strict media chronology laws, let alone a cinephile culture rooted in the theatrical experience.
Netflix continues to champion a streaming model that bypasses theatrical release and is moving towards a mechanism that allows its global subscribers to watch a new film wherever they are on the same day.
That flies in the face of France's strict media chronology laws stipulating a three-year window between a film's theatrical release and its online debut.
Netflix said recently it would explore limited theatrical distribution in France for Okja and The Meyerowitz Stories, however the FNCF and other sectors of the local industry remain sceptical.
Netflix declined to comment on Wednesday's developments, however top brass will not take Cannes' new ruling lightly and it remains to be seen whether they will submit films to the festival in the future.
The selection of its first two films in Competition has been a source of pride as the service continues to ramp up its original features business.
Former Universal vice-chairman of worldwide production Scott Stuber was recently brought in to head that side of the business and gets to work on a slate that already includes a number of tantalising original films featuring A-list talent.
The satire War Machine starring Brad Pitt and directed by David Michod launches on the platform during Cannes on May 26, while Will Smith and Suicide Squad director David Ayer reunite on the $90m fantasy crime thriller Bright in December.
Meanwhile the heads of other A-list international festivals will be watching with interest.
In a statement released to Screen, Toronto International Film Festival artistic director Cameron Bailey said: "We built TIFF Bell Lightbox to give our audience the best possible big screen experience. At the same time, our Festival selection is open to the best work we can find, whether or not it's destined for theatres."