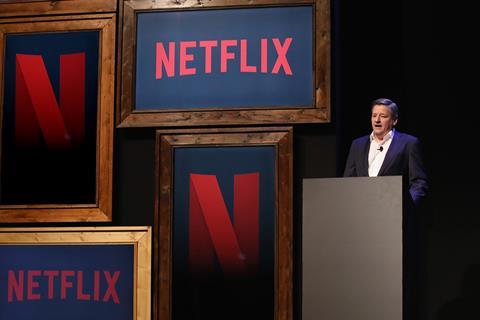 WEDNESDAY UPDATE: Netflix has issued a statement acknowledging "deep hurt that's been caused" over the Dave Chappelle debacle ahead of a planned walkout organised by trans and LGBTQ+ staff.
A spokesperson said, "We value our trans colleagues and allies, and understand the deep hurt that's been caused. We respect the decision of any employee who chooses to walk out, and recognise we have much more work to do both within Netflix and in our content."
ORIGINAL STORY: Netflix co-CEO Ted Sarandos has admitted he "screwed up" over his handling of internal communications in the Dave Chapelle debacle as a group of trans and LGBTQ+ staff plan a walkout at the Los Angeles head office on Wednesday (October 20).
The executive told the US trades on Tuesday night he "screwed up" in addressing the concerns of staff after they expressed dismay over the platform carrying the US comedian's latest stand-up special The Closer. He agreed that content could have a positive and negative impact in the real world.
However Sarandos stood by airing the show and said he was against carrying a disclaimer at the start, adding that it was already age-restricted and the comedian himself gives a clear warning about content at the outset.The Closer contains jokes that have upset the trans community and has sparked a backlash from organisations like GLAAD.
Earlier on Tuesday Netflix delivered strong third quarter results and said South Korean TV show Squid Game was its most watched show ever with 142million member households tuning in.