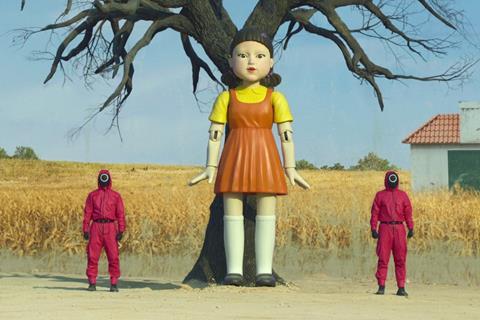 Netflix has said it will change the way it measures viewership as it confirmed in third quarter earnings that South Korean TV phenomenon Squid Game drew 142m subscriber households in its first month to become the service's biggest show ever.
The show debuted on September 17 and has ranked number one in 97 territories including the US. In its third quarter letter to shareholders on Tuesday (October 19) Netflix said later in the year it will shift to reporting the number of hours viewed from its current metric which records the number of accounts that have watched at least two minutes of a piece of content in its first 28 days on the platform.
"[W]e think engagement as measured by hours viewed is a slightly better indicator of the overall success of our titles and member satisfaction," the company said. "It also matches how outside services measure TV viewing and gives proper credit to rewatching. In addition, we will start to release title metrics more regularly outside of our earnings report so our members and the industry can better measure success in the streaming world.
By hours viewed Susanne Bier's horror film Bird Box starring Sandra Bullock leapfrogs Chris Hemsworth action thriller Extraction on 282m to become Netflix's most watched film ever, ahead Extraction on 231m. Next is The Irishman on 215m, then The Kissing Booth 2 on 209m, and 6 Underground on 205m.
By accounts viewed Extraction was the champion on 99m, followed by Bird Box on 89m, Spenser Confidential on 85m, 6 Underground and Murder Mystery on 83m apiece.
Turning to TV shows, Bridgerton: Season 1 is the leading title by hours viewed on 625m, followed by Money Heist: Part 4 on 619m, Stranger Things 3 on 582m, The Witcher: Season 1 on 541m, and 12 Reasons Why: Season 2 on 496m. Bridgerton was still the champion by accounts viewed on 82m, followed by Lupin: Part 1 on 76m and The Witcher: Season 1 on 76m. Tying in fourth and fifth were Sex/Life: Season 1 and Stranger Things 3 on 67m.
Overall the streamer beat its forecasts and added 4.38m net paid subscribers to reach 213.56m global members in the third quarter as revenue grew 16.3% to $7.48bn and operating income climbed 33% to $1.8bn year-on-year. Netflix forecasts an 8.5m rise in net paid global subscriptions in the fourth quarter to reach 222m. Earnings per share gained 83% and beat forecasts to reach $3.19. Netflix shares fell 1.4% after hours.
For the second consecutive quarter Asia-Pacific was the biggest membership driver with 2.2m paid net adds. In Europe Middle East and Africa there were 1.8m paid net adds. Despite slower growth in US, Canada – which produced a 70,000 increase – and Latin America, the company said there was still "ample runway for growth".
Netflix experimented with a free plan for Android mobile phone users in Kenya in the hopes of enticing them to pay for a subscription. The company said it had begun testing games in select countries and said those would be included in the monthly subscription and would not feature advertisements or in-app purchases so game play could be focused "on enjoyment versus monetisation".
The results followed a slow second quarter impacted by Covid-related production delays and the company promised what it expected to be its strongest fourth quarter content offering yet. They include action title Red Notice starring Dwayne Johnson, Gal Gadot and Ryan Reynolds; Adam McKay's awards prospect Don't Look Up with Leonardo DiCaprio and Jennifer Lawrence; Jeymes Samuel's recent BFI London Film festival opener The Harder They Fall with Idris Elba and Regina King; Sandra Bullock drama The Unforgivable; and Zack Snyder zombie prequel Army Of Thieves.
The fourth quarter film offering includes awards trio from Venice: Jane Campion's The Power Of The Dog starring Benedict Cumberbatch, Jesse Plemons and Kristen Dunst; Maggie Gyllenhaal's The Lost Daughter with Olivia Colman; and Paolo Sorrentino's The Hand Of God.
Looking to 2022 the company anticipated a "more normalised content slate in 2022" with a greater number of originals compared to 2021 and a more even spread across the year – assuming no new Covid waves or unforeseen events that cause large-scale production shutdowns.
Unsurprisingly company co-CEO Ted Sarandos's controversial support of comedian Dave Chappelle's transphobic and homophobic comments in his latest stand-up special The Closer did not come up in the shareholder letter or the post-report live session with executives and analysts. Netflix employees plan a walk-out at the company's Los Angeles headquarters tomorrow (Wednesday October 20).
In interviews with the US trades on Tuesday night Sarandos admitted he "screwed up" internal communications to staff on the matter and agreed storytelling had a real-world impact, but stood by the show.