Action-adventure premiered in competition in Cannes last month.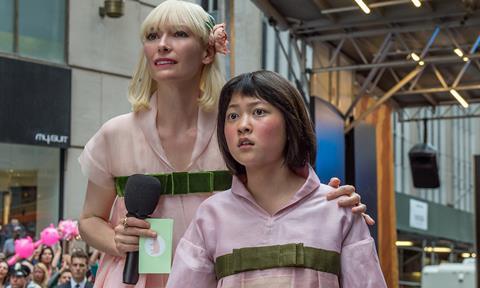 Netflix confirmed on Monday Bong Joon-ho's recent Cannes competition selection Okja will premiere theatrically on June 28 in New York and Los Angeles day-and-date with the global online launch on its streaming platform.
Screen reported last month in Cannes that Netflix was planning a limited theatrical launch when it also emerged the action-adventure will get a 10-screen day-and-date release in the UK on June 28.
The Plan B Entertainment, Lewis Pictures and Kate Street Picture Company production will premiere in select iPic theatres in New York and Los Angeles, as well as the Film Society Lincoln Center in New York, and the Laemmle in Santa Monica.
However it appears similar plans in Bong's native South Korea may not get a smooth reception. According to the Korea Times leading theatre chain CJ CGV is refusing to carry the film, while Lotte Cinema and Megabox are considering a boycott over concerns that the June 29 day-and-date launch disrupts the traditional releasing structure.
Bong's follow-up to his acclaimed Snowpiercer has endured a rough ride since Cannes announced it would be one of two Netflix titles to premiere in competition (the other being Noah Baumbach's The Meyerowitz Stories.)
The French exhibition sector expressed alarm over the threat to France's strict chronology laws that mandate a three-year wait between theatrical and online release, so much so that the Cannes hierarchy introduced a rule change. At the first press screening of Okja, attendees booed when the first six minutes were projected in the wrong aspect ratio.
Ultimately, reviews for the film were strong and critics were particularly impressed by the special effects. The story centres on a young girl who risks everything to prevent a multinational company from kidnapping her best friend, the titular giant pig. Tilda Swinton, Paul Dano, Jake Gyllenhaal and An Seo Hyun star.
Brad Pitt, Dede Gardner, Jeremy Kleiner, Lewis Taewan Kim, Dooho Choi, Woo-sik Seo and Bong produced Okja.