African child soldier drama will open in the UK on Oct 9, a week before it debuts on Netflix.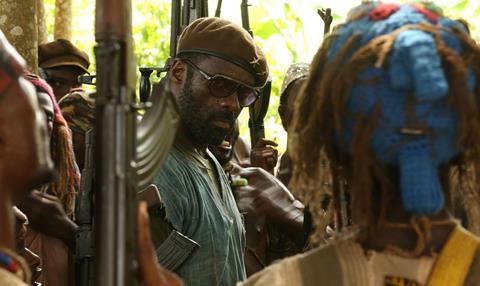 Netflix and Curzon have announced a partnership that will put Netflix's first original film, Beasts Of No Nation, in select Curzon Cinemas across the UK one week before the film will be viewable on the online streaming service.
The film, written and directed by Cary Fukunaga (True Detective, Sin Nombre) and starring Idris Elba (Luther, Mandela: Long Walk to Freedom) will have its UK premiere at the BFI London Film Festival on Oct 8.
It will then open theatrically in the UK on Oct 9, before debuting on all Netflix territories on Oct 16.
Beasts Of No Nation is an adaptation of Uzodinma Iweala's highly acclaimed novel of the same name. The story follows a child soldier named Agu who fights in the civil war of an unnamed African country.
The film had its world premiere at the Venice Film Festival on Sept 3. It then went on to play at the Toronto International Film Festival, where director Fukunaga revealed he had been lobbying for a theatrical release.
Screen's review referred to the film as "an epic indictment on this evil which has plagued sub-Saharan Africa".
In the US, the film will open via Bleecker Street in 19 Landmark Theatres US markets on Oct 16 as a day-and-date release alongside the Netflix launch.