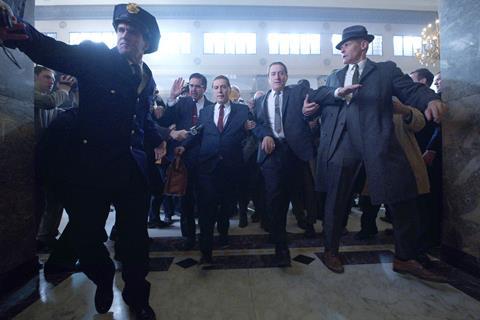 The Irishman and actors Antonio Banderas and Lupita Nyong'o won top honours from New York Film Critics Circle (NYFCC) on Wednesday morning (4) as the group illustrated its penchant for blending conservatism and eccentricity, while Netflix continued to stamp its mark on early awards season.
For best film winner The Irishman, a second affirmation in two days after Tuesday's National Board of Review vote brings more good news for Netflix in its breathless, no-expense-spared quest for a first best picture Oscar victory.
However while an NYFCC win augurs well and will be front of mind among Academy voters, it does not necessarily correspond to an Oscar win. Netflix's very own Roma was the group's best film winner last year and fell at the final hurdle when Green Book won the Oscar in February.
Surprisingly, there was not much love for New Yorker Noah Baumbach's Marriage Story following its Gothams triumph on Monday, despite Laura Dern's best supporting actress win, in which the film was cited alongside Columbia Pictures' Little Women.
Antonio Banderas did his prospects of a first lead actor Oscar nod no harm with victory in the best actor category, essentially playing Pedro Almodovar in the Spanish master's Pain And Glory, distributed in the US via Sony Pictures Classics. The NYFCC showed its flair for left-field selections when it named Lupita Nyong'o best actress for Us.
Netflix was writ large in other categories, as Joe Pesci was named best supporting actor for The Irishman, giving the streamer a lock on the supporting categories. Atlantics, which Netflix has for most of the world excluding France, Benelux and China, was anointed best first film.
The Safdie brothers won the directing category for Uncut Gems and could gain traction in awards season for their widely admired, wild ride. Quentin Tarantino was named best screenwriter for Once Upon A Time… In Hollywood.
Bong Joon Ho's Parasite, distributed in the US through Neon, consolidated its status as the clear international feature film Oscar frontrunner with a win in the foreign language film category. The NYFCC will honour its winners at the 85th annual gala on January 7, 2020.
Full list of winners:
Best Film
The Irishman
Best Director
Benny and Josh Safdie, Uncut Gems
Best First Film
Atlantics
Best Actor
Antonio Banderas, Pain And Glory
Best Actress
Lupita Nyong'o, Us
Best Supporting Actor
Joe Pesci, The Irishman
Best Supporting Actress
Laura Dern, Marriage Story and Little Women
Best Screenplay
Quentin Tarantino, Once Upon A Time… In Hollywood
Best Cinematography
Portrait Of A Lady On Fire
Best Foreign Language Film
Parasite
Best Non-Fiction Film
Honeyland
Best Animated Film
I Lost My Body
Special Awards
Randy Newman
Indie Collect