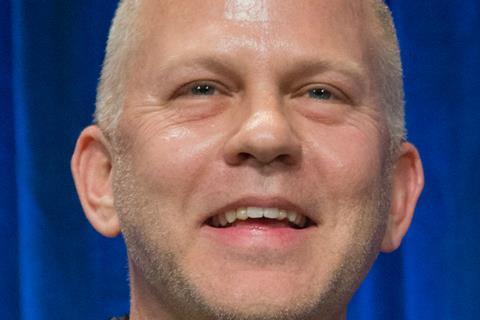 Netflix has signed Ryan Murphy to a multi-year deal to make new series and films, poaching the Emmy-winning producer away from his current studio home at 20th Century Fox.
The deal will come into effect in July and is reportedly a five-year arrangement that could be worth up to $300m.
The pact represents another talent coup for Netflix, which last summer poached Shonda Rhimes away from Disney's ABC.
Murphy, best known for Nip/Tuck and Glee and also a prolific writer and director, was thought to be considering new options in advance of the expiration this summer of his 20th Century Fox deal. If he had renewed that deal he may have ended up working at Disney, which has agreed to buy assets of Rupert Murdoch's 21st Century Fox including its television production division and which is planning to launch a general entertainment streaming service of its own in 2019.
Emmy-winner Murphy was already set to make two series for Netflix: Ratched, an upcoming drama based on a character from classic feature One Flew Over The Cuckoo's Nest, and The Politician, a one-hour comedy series that got a two-season order from the streaming platform just last week.
Murphy's current series include American Horror Story, Feud, Pose and American Crime Story, all for Fox's FX cable channel, and 9-1-1, for the Fox broadcast network. He also wrote and directed the feature films Running with Scissors and Eat Pray Love.
In a statement, Murphy emphasised his company's effort to promote diversity in the US television business. "The history of this moment is not lost on me," he said. "I am a gay kid from Indiana who moved to Hollywood in 1989 with $55 dollars in savings in my pocket, so the fact that my dreams have crystallised and come true in such a major way is emotional and overwhelming to me.

"I am awash in genuine appreciation for Ted Sarandos, Reed Hastings and Cindy Holland at Netflix for believing in me and the future of my company which will continue to champion women, minorities and LGBTQ heroes and heroines, and I am honoured and grateful to continue my partnership with my friends and peers at Fox on our existing shows."
Netflix chief content officer Ted Sarandos added: "Ryan Murphy's series have influenced the global cultural zeitgeist, reinvented genres and changed the course of television history. His unfaltering dedication to excellence and to give voice to the underrepresented, to showcase a unique perspective or just to shock the hell out of us, permeates his genre-shattering work."