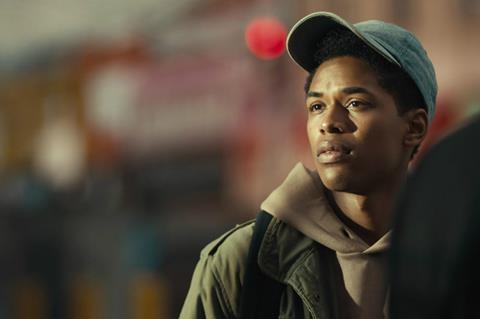 Netflix has acquired worldwide rights to social justice drama Monster, which premiered in competition at the 2018 Sundance festival.
Based on the award-winning novel of the same name by Walter Dean Myers, Monster is the feature debut of commercial and music video director Anthony Mandler.
With a screenplay by Radha Blank, Colen C Wiley and Janece Shaffer, the film centres on a 17-year-old honour student from Harlem who is charged with murder and thrown into a legal battle that could land him in prison for the rest of his life.
The ensemble cast includes Kelvin Harrison Jr in the title role, Jennifer Hudson, Jeffrey Wright, Jharrel Jerome, Tim Blake Nelson, and John David Washington.
Bron Studios, ToniK Productions and Get Lifted Film Co produced in association with Charlevoix, Red Crown and Creative Wealth Media. The project was produced by Tonya Lewis Lee, Nikki Silver, Aaron L Gilbert, Mike Jackson and Edward Tyler Nahem.
Lewis Lee commented: "We at ToniK are thrilled to have brought Walter Dean Myers' National Book Award and Michael L Printz award-winning work to screen and are so pleased to partner once again with Netflix to showcase this important story to the world."
Jackson said: "We're so proud of this film and the work Anthony did to bring this book to life. Our partnership with ToniK and Bron was incredible and we're so happy to be back in business with our frequent partner Netflix. We can't imagine a better home for Monster and hope this film helps shine a light on social justice issues throughout our country."
Gilbert added: "We are proud to work alongside such talented storytellers like Anthony Mandler and the incredible teams at ToniK and Get Lifted, to help bring this timely and important book to life. We can't wait for Netflix to share it with the world and are hoping it helps viewers to recognise injustice in all of its forms."