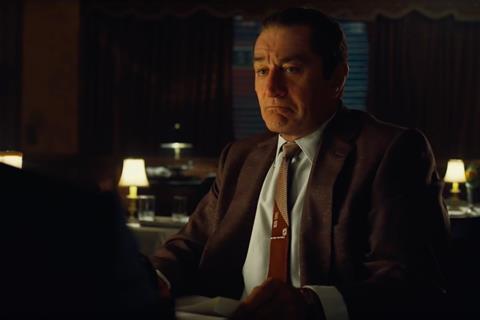 Netflix is planning the widest theatrical roll-out of its awards season titles in the UK to date in partnership with nationwide independent exhibitors and Altitude Film Distribution.
The move builds on what was an exclusive relationship between Netflix and distributor-exhibitor Curzon last year that saw Curzon book the streamer's titles, including the multi Bafta-winning ROMA, primarily into its own cinemas during a limited theatrical window. The films, which also included Outlaw King, were made available to further cinemas after the films had started streaming on the service due to demand from some independent venues.
This year, Netflix is continuing to work with Curzon to book films directly into its theatres. However, in addition Netflix is teaming with Altitude Film Distribution for the first time to book Netflix films into nationwide independent venues, including the Everyman circuit, right from the beginning of their runs. Netflix is giving the titles various limited theatrical windows of between one to three weeks.
"Our intention is to show these titles on their theatrical release dates," said Hoss Ghonouie, head of marketing at the Everyman Group. "We think it's great that we can now work with Altitude to do so."
Those films include Martin Scorsese's The Irishman (to be released theatrically November 8 and on Netflix from November 27), Noah Baumbach's Marriage Story (November 15/ December 6) and Fernando Meirelles' The Two Popes (November 29/ December 20). The first to be released is Steven Soderbergh's The Laundromat this Friday (September 27/ October 18).
"Curzon have been Netflix's lead exhibition partner in the UK for a number of years, and we're thrilled to be continuing that direct relationship over the coming months to showcase their upcoming slate of theatrical films across our venues," said a Curzon spokesperson in a statement.
Netflix was unable to confirm exactly how many theatres the films will play in.
Major multiplex operators Vue, Odeon, Cineworld and the Cineworld-owned boutique chain Picturehouse have declined to screen any film that does not adhere to the full 16-week theatrical window.
A one-off screening of The Irishman on October 13, as part of the UK-wide closing night celebrations of the BFI London Film Festival, is being booked into nationwide independent cinemas directly by the BFI.
Curzon is also working with Amazon on the UK theatrical release of Scott Z Burns' The Report on November 15, two weeks before the film starts streaming on Amazon Prime on November 29.
Altitude works regularly with UK broadcaster Sky on the day-and-date release of Sky Cinema Original Films including Anthony Maras' Hotel Mumbai, starring Dev Patel and Armie Hammer, which opens in UK cinemas and starts streaming on Sky this weekend.
Netflix has not released details of any theatrical box office takings to date, eliciting industry-wide frustration and criticism.