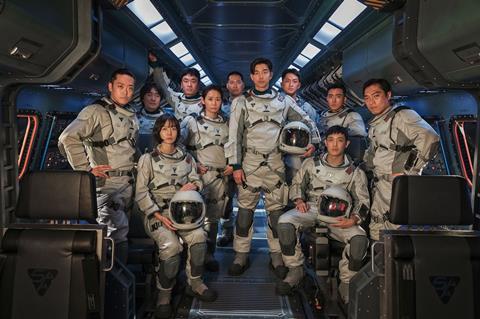 Netflix has unveiled plans to spend nearly $500m on Korean films and TV series in 2021.
In a virtual press event on Thursday (February 25), the streaming giant revealed the significant investment alongside a slate of content led by two new original features, BDSM romance Moral Sense and action film Carter, from the director The Villainess, Jung Byung-gil.
The slate also includes series Hellbound, from Train To Busan director Yeon Sang-ho, and space drama series The Silent Sea.
"Over the last two years, we've seen the world falling in love with incredible Korean content, made in Korea and watched by the world on Netflix," said Ted Sarandos, chief content officer at Netflix. "This includes a recent global hit Sweet Home, that 22 million households chose to watch."
He name-checked other popular Korean content such as zombie-themed Kingdom and #Alive, young adult scripted series Extracurricular, K-pop documentary Blackpink: Light Up the Sky, romantic North-South Korean drama Crash Landing On You and recent sci-fi film Space Sweepers.
"Since 2016, we have made 200+ Netflix Asian original series and films, including about 80 in Korea," he added. "Our investment in Korean content surpassed $700m and we recently signed two deals for studio spaces, which will allow us to continue making great content in Korea as Korean content becomes the world's entertainment trend."
Introducing the fresh slate, Minyoung Kim, vice president of content for Korea, Southeast Asia, Australia and New Zealand for Netflix, revealed the streaming giant had 3.8 million paid memberships in Korea as of the end of 2020.
Fresh slate
Moral Sense follows a seemingly clean-cut office worker who keeps his BDSM tendencies to himself, until his female co-worker accidentally opens his mail and finds a leash. The film will be directed by Park Hyun-jin (Like For Likes, Lovers Of 6 Years) based on a web comic of the same name.
Carter follows a man after he wakes up in a motel room with no recollection of who he is, except for a voice in his ear that calls him 'Carter' and orders him to go on a mission to save a kidnapped girl. The one-scene, one-cut action film is directed by Jung, whose The Villainess played in Cannes' Midnight section in 2017.
Hellbound is about a smart, self-assured lawyer who goes up against the New Truth Church and its extremist Arrowhead devotees. Written by Train To Busan director Yeon and Choi Gyu-seok, author of the popular web comic Songgo, the series stars Yoo Ah-in, Park Jung-min, Kim Hyun-joo, Won Jin-ah and Yang Ik-june.
Space drama series The Silent Sea, starring Bae Doona, Gong Yoo and Lee Joon, is written by Mother scriptwriter Park Eun-kyo and executive produced by Jung Woo-sung - perhaps best known as an actor in films such as Asura: The City Of Madness.
Other titles include Korean drama Squid Game, directed by Hwang Dong-hyuk and starring Lee Jung-jae and Park Hae-soo; Kingdom: Ashin of the North, a standalone episode in the period zombie series; new reality series Baik's Spirit, documentaries like My Love; and Netflix's first Korean sitcom, So Not Worth It.