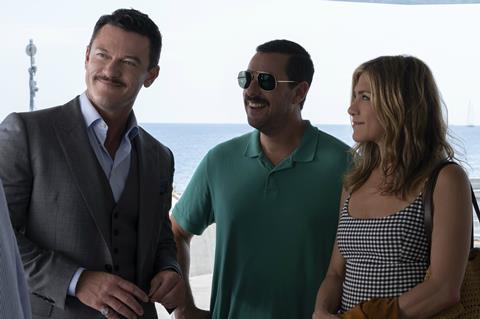 The release of viewing figures for Netflix's Adam Sandler-Jennifer Aniston crime comedy Murder Mystery via Twitter has revived debate in Hollywood and beyond over what they actually signify.
Netflix numbers are tricky to verify, yet regardless of whether or not users of 30.9m global accounts actually sat all the way through the crime caper in its first three days on the platform (a record, according to the service), the motivation behind the data dump is interesting in that it may hint at a possible evolution in how Netflix – and the broader streaming community – could conduct business in the years to come.
The upbeat viewership announcement comes at a critical time for the service.
The battle for market share is intensifying and Netflix faces stiff challenges. It has accrued massive debt, faces growing competition from Amazon Studios and Hulu, and awaits the launch of several highly capitalised rivals, one of whom has just lured away a key Netflix executive. On top of that, some of its prestigious licensing deals are going away as studios like Disney ring-fence home-grown content for their own platforms, and PricewaterhouseCoopers has just said the service could soon reach peak US subscriber level (currently around 60m).
First mover advantage has allowed Netflix to grow a market-leading worldwide subscriber base to some 150m, yet it needs to hold on to its users. The obvious way is to assemble a formidable talent stable by retaining the filmmakers and actors it already has and attracting new names. It can do this through expensive multi-film original content deals with people like Sandler, or on a case-by-case basis on individual original films, like the just-announced drama Good Morning, Midnight with George Clooney and his Smokehouse Pictures, and through acquisitions.
In April chief content officer Ted Sarandos promised greater transparency when he said Netflix would offer "more specific and granular data and reporting" to producers, members, and press. That raises the point as to whether that data could be pegged to a more encompassing, formalised reward structure for key participants across the service's talent and content deals compared to what currently exists.
Up-front certainty vs. risky back-end
Generally, when Netflix acquires a film it offers an up-front flat fee (which it can pay over several years) based on market price. When Netflix finances a film it pays the budget and a negotiable premium, which is its way of rewarding select talent and can be extremely lucrative for the biggest household names. It is up to the producer or talent agents to press for a premium to compensate for lost potential back-end that a theatrical distributor would pay out were the film to achieve box office success.
"We have to go for the biggest up-front fee possible," notes one agent, adding that when Netflix buys a film, "any of your back-end bonuses go out the window. We have to structure it in a different way; maybe look at a bonus if Netflix buys it. But there's only a tiny handful of actors you can do that with."
As things stand Bron Studios' Aaron L. Gilbert, who sold the upcoming rescue thriller Red Sea Diving Resort starring Chris Evans to Netflix, says filmmakers face a choice. "On certain films it absolutely makes sense to have a partner like Netflix handle a film's release worldwide and thus not have to worry about performance risk. In other cases it makes sense to go the more traditional route, when talent, producers, and financiers can participate in success. It's more of a risk, but there are rewards."
Under the traditional model even if a name actor were to get paid scale on a passion project, he or she would stand to win if the film excelled at the box office and triggered back-end deals. However the stark reality in Hollywood is that most films either lose money or just about break even, which bolsters Netflix's case when talent weighs up distribution routes. Accordingly, Stuart Ford of AGC Studios believes that a small premium paid by a streaming platform is nothing to be sniffed at. "If someone guarantees you a healthy up-front fee and a 15% margin every time, that's good business," he says.
"We completely embrace streamer-facing activity," adds Ford. "It's good for my business. It's like having a stock portfolio: you want to have some content with streamers that can include scripted television, where you take a nice fee and guaranteed return in your back end; and you want to have some nice, safe independent financing."
Toronto-based Bron backer Jason Cloth of Creative Wealth Media notes, "When we finance a film we are really financing it for wide theatrical distribution. Right now that is the only model to make money. If you are a producer who had the film that got bought out by a major streamer for a tidy profit, then you should count your lucky stars and kiss the ground and move on.
"Major streamers do not come along and pay multiples of production costs – that's a fallacy," adds Cloth. "But if your film just doesn't have a real theatrical slant to it but it's still very good, there's nothing wrong with a major streamer picking it up and making your money back and you live to fight another day."
Ownership issues
Yet living to fight another day can be a brutal way for an actor to build a career, or for a producer to build a business, even more so if there is no chance of getting the film rights back. "It would be nice to have the filmmaking teams participate in the success of a film on the [platform], or have some future ownership in the film seven, 10 or 20 years later instead of locking into a perpetuity deal," notes Rena Ronson of UTA Independent Film Group. "Some of the streamers have more flexibility than others, so it will be interesting to see how it all progresses as competition increases."
As one producer who works with Netflix notes, "If you sell [Netflix] a title you can get back ownership if there's a license term. But secondary licensing is going down – if you get your movie back in 15 years and try to sell it again, there are fewer outlets because of the streamers. They've got so much content flow across their platforms all the time, they're not going to pay you much for a 15-year-old movie. And you will probably have to aggregate with another 10 or 15 titles, so you need a library."
Attorney Marc Simon of Fox Rothschild has worked on deals involving streamers and says, "Netflix can buy out the world and if it's an acquisition – as opposed to a project that Netflix is financing up front – the acquisition price could provide for a back-end to the profit participants based on the… waterfall structure of the particular independent film, and specifically if the acquisition or license fee substantially exceeds the recoupment amounts owed to financiers on the picture."
Will new arrivals follow Netflix model?
"Everyone is guessing about what the business will look like in five years," says Fox Rothschild's Darrell Miller. "There are enormous shifts in the landscape for content creators and distributors, and nobody really knows how things will shake out."
The fear is when Apple TV, Disney+ and services from WarnerMedia and Comcast arrive, they will follow the deal-making paradigm on individual films set by Netflix, thus prodding the notion of theatrical-like back-end deals closer towards the cliff edge. Yet it could go the other way as competing services strive to position themselves as talent magnets, and there are those who believe it is only a matter of time before something gives.
"Talent representatives are not happy about the lack of performance access for their clients and already, the battle amongst the streaming content players is to get the best creators and the best and biggest stars, using their formidable resources," notes White Horse Pictures co-head Nigel Sinclair, an avowed admirer of what Netflix and other streamers have accomplished thus far.
"But if even one of these new entrants decides to break the dam and start rewarding talent based on a reported Nielsen-like performance test to get a competitive advantage, it seems to me likely that talent will flock to that company, gradually unpicking the current position back to where the industry has been for the last decades – performance-based deals."
Producer and attorney John Sloss shares the sentiment. "The real question is whether as competition comes online from other global SVOD services, is there going to be pressure on Netflix to loosen up their buy-out orientation? A lot of it has to do with their issue with transparency and data and not wanting to report results either to individuals or publicly.
"We've seen some signs they're loosening up in their secrecy on data and there will be some pressure on them to do that from the other competing services. As that happens that will open to the door to the notion of sharing, especially in cases of wild success… where something looks like a buy-out, and if it turns out there's some sort of wild engagement or viewership, there's some kind of additional back-end that kicks in."
Platforms adopt separate and distinct distribution strategies, and pay out in different ways. To garner publicity for a film, Netflix four-walls at least a couple of dozen releases in theatres each year, often just for several days in one or two venues. Thus far Amazon Studios has adhered to a more familiar theatrical model, releasing select titles for up to 90 days before they go on to the service. It pays an up-front MG and can tailor back-end arrangements on a case-by-case basis where it acquires worldwide rights.
Netflix declined to comment for this piece on whether it is considering a more formalised shift towards building reward incentives for talent into all its deals. The company's business strategy has been known to change swiftly and dramatically and were it minded to share greater spoils, it remains to be seen what metric might apply. An intricate calculation based on Netflix's viewership data would seem the obvious choice. Perhaps even traditional profit participation through theatrical box office bumps will play a part in the future, which brings to mind Martin Scorsese's awards season hopeful The Irishman later this year.