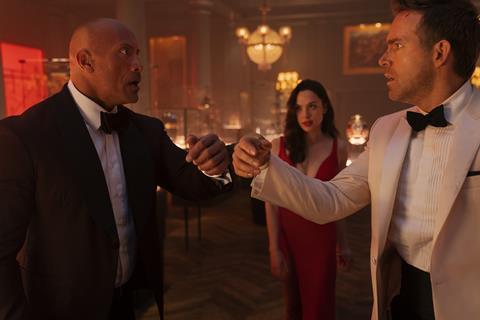 Netflix has launched top 10 lists reporting its most popular films and shows around the world based on its new metric measuring hours viewed.
Starting today (November 16) the metric on Top10.netflix replaces the streamer's previous measurement which recorded the number of accounts that watched at least two minutes of a piece of content in its first 28 days on the platform.
That system was frequently criticised for failing to reveal a meaningful picture of viewership, cherry picking highlights and not reporting who watched shows in their entirety.
The new metric does not address that last element, which means hours viewed may include repeated views of the same scene without the member getting to the end of a film or show.
However the platform's VP of content strategy, planning and analysis Pablo Perez De Rosso said in a note released to press on Tuesday that engagement measured by hours viewed was "a strong indicator of a title's popularity, as well as overall member satisfaction, which is important for retention in subscription services".
Starting on Tuesday Netflix has begun to publish its top 10 lists based on hours viewed from Monday to Sunday the previous week for both original and licensed titles. The four lists will encompass global top 10 films and TV in English, and top 10 films and TV in non-English. Last month Netflix said South Korean TV smash Squid Game had become its most popular show of all time and has drawn 142m member households in its first 28 days on the platform.
The lists will be in English and Spanish with more languages to come. The weekly reports are in addition to the daily country Top 10 rows Netflix introduced last year, which will now also be based on hours viewed. The platform will update the overall lists to reflect new titles that become "hits" in their first 28 days.
Action comedy Red Notice starring Dwayne Johnson, Ryan Reynolds and Gal Gadot led the new list of top 10 films in English that were active from Monday November 8 through Sunday November 14. It generated 148.72m hours viewed following its November 12 debut. Based on those results it ranks as Netflix's biggest ever film opening weekend.
Italian true-life crime drama Yara on 17.95m hours viewed, Brazilian human trafficking drama 7 Prisoners on 9.69m and Dutch-Belgian family title The Claus Family on 4.44m led the non-English feature list.
Netflix will also report top 10 lists for film and TV in more than 90 countries (the same countries with country Top 10 rows on Netflix), which are ranked by hours viewed although they will not show how many hours were viewed for each title by subscribers in each country.
The streamer will round hours viewed to the nearest 10,000 to account for fluctuations in Internet connectivity and has engaged accounting firm EY to review the metrics and will publish EY's report in 2022.
Netflix has faced criticism in the past over its reluctance to share viewership information – even with producer and talent collaborators. It still refuses to report box office on the films it releases in cinemas or reveal audience share, arguing these are metrics used by theatrical distributors to help advertisers assess success and do not apply to streaming.
The list of English-language films in full: Red Notice (148.72m), Love Hard (58.56m), The Harder They Fall (33.06), Army Of Thieves (20.56m), Father Christmas Is Back (13.78m), 211 (7.9m), Army Of The Dead (7.62m), Passing (7.49m), Transformers: The Last Knight (6.92m), and Jumanji: The Next Level (6.76m).
The list of non-English-language films November 8-14: Yara (17.95m), 7 Prisoners (9.69m), The Claus Family (4.44m), Meenakshi Sundareshwar (4.41m), The Forgotten Battle (2.63m), Stuck Together (2.61m), Lords Of Scam (2.1m), Fierce (1.8m), Der Fall Collini (1.59m), Doctor (Tamil, 1.43m).
The country top 10 charts indicate the most popular films around the world in the reporting week, without giving specific hours viewed in each country. Tuesday's report, for example, said Red Notice was in the top 10 of 94 countries including the US, UK, Australia, South Korea, France, Germany, Mexico, Ecuador, Poland and Nigeria.