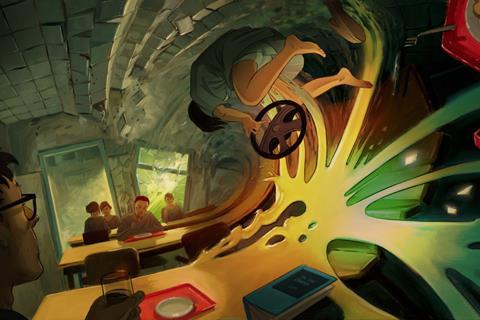 The Netherlands film production incentive has announced today it is backing high-profile projects by Thomas Vinterberg and Alex van Warmerdam in its first funding round of 2019.
Overall the incentive will pump €10.5m ($11.79m) into 22 new productions and five high-end TV-series. This breaks down as 17 feature films, three feature length documentaries, two animated feature films, four drama series and one animated series, including 14 international co-productions. It is predicted the projects backed in this spending round will generate more than €40m ($35.64m) in production expenditure in the Netherlands.
Introduced in July 2014, the incentive offers a financial contribution in the form of a cash rebate on the qualifying production costs that are demonstrably spent in the Netherlands.
It has provided €817,399 ($917,436) to van Warmerdam's new film, No. 10. Produced by Graniet Film and co-produced by CZAR Film (BE), Ma.ja.de. and Filmproduktions (DE), it is about an actor with no past "overwhelmed by a series of strangers who strong-arm him into his future." Van Warmerdam is one of the Netherland's most celebrated arthouse directors and this is his 10th feature, one reason for the title.
Vinterberg's The Alcohol Project has been granted €62,000 ($69,000). The lead producer is Zentropa Entertainments 3 (DK) and the co-producers are Zentropa Sweden (SE), Zentropa International Netherlands (NL). Topkapi is the Dutch co-producer. The Alcohol Project is about a man and three of his friends who launch a drinking experiment. The four teachers – and a handful of students - decide to maintain a constant level of intoxication.
The second season of Undone, the international adult-themed animated series for Amazon by Dutch director Hisko Hulsing, is also being supported with €1.5m ($1.68m). The first season of Undone, granted production incentive financing in December 2017, is expected to be released exclusively on Amazon Prime this year.
Meanwhile, underlining the increasingly close links between the Dutch and UK industries, the incentive is supporting the second series of Bulletproof, Vertigo Films' drama about two cops taking on the criminal underworld in London's East End. The Incentive is providing €177,361 ($199,018) to the drama, which is directed by Diarmuid Goggins and scripted by Noel Clarke. The Dutch co-producer is Topkapi. Some of the series will shoot in the Netherlands and Dutch crew will be involved.
The next application round for both film and high-end TV series is May 7, 2019.
The full list of projects backed in the first round of 2019 are:
The Alcohol Project (feature film) - €62,000
Director: Thomas Vinterberg (DK)
Dutch co-producer: Topkapi Films
Lead producer: Zentropa Entertainments 3 (DK)
Co-producers: Zentropa Sweden (SE), Zentropa International Netherlands (NL)
Angel (feature film) - €316,500
Director: Dennis Bots
Dutch producer: Incredible Film
Co-producer: Phanta Basta!
Boys will be Boys in Miami (feature film) - €520,755
Director: Johan Nijenhuis
Dutch producer: Johan Nijenhuis & Co
Do Not Hesitate (feature film) - €318,123
Director: Shariff Korver
Dutch producer: Lemming Film
Co-producer: A Private View (BE)
Grace (documentary) - €84,905
Director: Susanne Opstal
Dutch producer: Halal Docs
Jackie and Oopjen (feature film) - €452,013
Director: Annemarie van de Mond
Dutch producer: Column Projects
Co-producer: Fiction Valley
The Kameleon on the Chain (feature film) - €210,330
Director: Steven de Jong
Dutch producer: Steven Dejong Producties
Karlchen (animated feature film) - €438,962
Director: Michael Ekblad (SE)
Dutch co-producer: Submarine Animation
Lead producer: Alexandra Schatz FilmProduktion (DE)
Co-producer: Sluggerfilm (SE)
My Sister/Brother (documentary) - €82,221
Director: Mercedes Stalenhoef
Dutch producer: Zeppers Film & TV
No. 10 (feature film) - €817,399
Director: Alex van Warmerdam
Dutch producer: Graniet Film
Co-producers: CZAR Film (BE), Ma.ja.de. Filmproduktions (DE)
No such thing as Housewives 2 (feature film) - €322,000
Director: Aniëlle Webster
Dutch producer: Nuts & Bolts Film Company
Co-producer: REP Film
Oink's Revenge (feature film) - €656,997
Director: Mascha Halberstad
Dutch producer: Viking Film
Co-producer: A Private View (BE)
The Pirates down the Street (feature film) - €745,645
Director: Pim van Hoeve
Dutch producer: Johan Nijenhuis & Co
Poor Boy (feature film) - €488,670
Director: Ramon Gieling
Dutch producer: DOXY
Co-producer: Savage Film (BE)
Sea of Time (feature film) - €786,641
Director: Theu Boermans
Dutch producer: Kaap Holland Film
Co-producers: Eyeworks Film & TV Drama (BE)
Sidik and the Leopard (documentary) - €61,000
Director: Reber Dosky
Dutch producer: Dieptescherpte
The Sound of Philadelphia (feature film) - €80,517
Director: Jérémie Guez (FR)
Dutch producer: 100% Halal Productions
Lead producer: Cheyenne Films (FR)
The Warden (feature film) - €309,366
Director: Threes Anna
Dutch producer: KeyFilm
When Fish Start Flying (feature film) - €215,759
Director: Eché Janga
Dutch producer: Keplerfilm
When Fucking Spring Is in the Air * (feature film) - €235,200
Director: Danyael Sugawara)
Dutch producer: Volya Films
Where is St. Nicholas' Big Book? (feature film) - €170,167
Director: Armando de Boer
Dutch producer: Tom de Mol Productions
A White Christmas (feature film) - €193,485
Director: Lodewijk van Lelyveld, Appie Boudellah
Dutch producer: AM Pictures
High-end TV-series:
Beau Séjour 2 (drama) - €345,963
Director: Nathalie Basteyns (BE), Kaat Beels (BE)
Dutch co-producer: Column Projects
Lead producer: De Mensen (BE)
Bulletproof 2 (drama) - €177,361
Director: Diarmuid Goggins (IE)
Script: Noel Clarke (UK)
Dutch co-producer: Topkapi Films
Lead producer: Vertigo Films (UK)
Commandos * (drama) - €807,627
Director: Hanro Smitsman
Dutch producer: NL Film & TV
Co-producers: Ciné Cri de Coeur (BE), Spier Productions Pty. (ZA)
A Good Year (drama) - €180,000
Director: Kadir Balci (BE)
Dutch co-producer: The Film Kitchen
Lead producer: Mockingbird Productions (BE)
Undone Season II (animated TV-series) - €1,500,000
Director: Hisko Hulsing
Dutch co-producer: Submarine
Lead producer: The Tornante Company (US)
* Re-submitted application