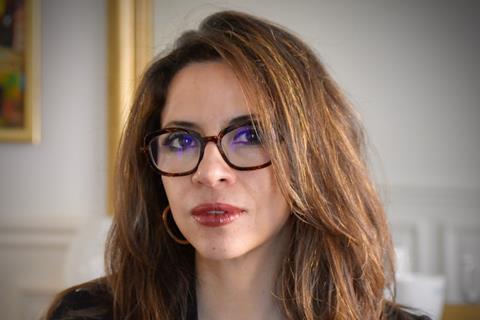 New Berlin-based, blockchain-based film sales hub Cinemarket went live on Tuesday (May 12) with sales veteran Lucero Garzon in the recently appointed role of commercial director.
The launch comes some three years after the project was first presented at the development stage at the Berlinale Talents market hub in 2017, and two years after a Beta version was unveiled at the Cannes Marché du Film's NEXT programme in 2018.
"We had been planning to do a live launch during Cannes. Obviously that's impossible but we've retained the launch date nonetheless," Berlin-based founder and managing director Adrian Lugol told Screen.
"The digital film market comes at a time when the movie industry needs it the most with markets and festivals being cancelled or postponed worldwide, industry members unable to fly and with demand from consumers, especially in the OTT area that has never been this strong."
Lugol describes Cinemarket as the first digital European-based film market enabling rights-holders and sales companies to securely showcase new and catalogue titles to potential buyers. All formats are permitted, from feature-length films and TV series, through to documentaries and shorts. It was supported by the Creative Europe Media programme at the development stage.
"It's not just a platform on which to do screenings. It is a lot more complex," he said.
Under its services, professionals can digitally store and encode their contracts, licenses and transactions on a transparent, shared database, safe from falsification or alteration.
Buyers, in the meantime, can sign up and scout for available rights, watch films, send their offers, negotiate contracts and send MGs and royalties in one secured and easy-to-use single service.
It has already signed deals with Eurovod, T-Port Media, Filmdoo, Perspective Films, Vesoul Asian Film Festival, Filmotor and Filmatique ahead of the live launch.
Garzon, who was formerly head of sales at Paris-based sales company Pyramide International, recently joined the company as commercial director.
Other recent hires include Justine Powel as Chief Operating Officer. Prior to her appointment, the Berlin-based former journalist was managing director of the English-language publication of German Handelsblatt Media Group.
The platform is the brainchild of former independent producer Lugol. He said the idea grew out of a fascination with crypto-technology which in turn led him to meet Cinemarket co-founder, IP and blockchain lawyer Florian Glatz at conference on the subject in Berlin in 2016.
"I felt from early on that the technology was perfectly adaptable to the film industry in that IP could be tokenised," says Lugol.
Garzon emphasised the fact that Cinemarket platform is aimed at many different sectors of the film sales and distribution chain, from sellers and producers to theatrical buyers and platforms and festival programmers.
"It brings a lot of services under one roof," she said. "As well as enabling professionals to screen and watch content, it also offers support at the contract stage. Once a deal has been struck the platform can provide a made-to-measure contract."
Lugol believes Cinemarket's contract services will be of particular use to filmmakers and producers because they are neutral and transparent.
Buyers and sellers can access Cinemarket's basic services for free. The platform plans to generate income by charging a percentage fee on completed transactions, which will be around 2% for works by emerging filmmakers and 8-10% for films by more established filmmakers with a market track record. Lugol said the Cinemarket team was assessing the market ahead of setting an exact pricing scheme.