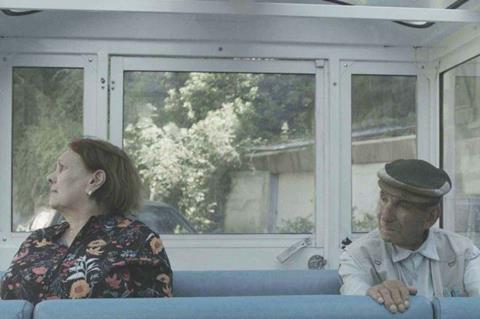 Lina Soualem's Their Algeria won the inaugural documentary works-in-progress prize at the Cannes Marche's Doc Corner.
The award, which comes with €10,000 cash prize, is supported by International Emerging Film Talent Association (IEFTA) and was presented at the Doc Lovers Mixer which closed Doc Day on Tues (May 21).
Their Algeria, part of the Palestinian Showcase, was one of the of 24 docs-in-progress from six countries participating in the Marché's 'Docs-in-Progress Showcases at the Doc Corner' program. The countries were Argentina, Canada, Chile, Norway, Palestine and South Africa.
The winning title was selected by a jury consisting of Kirstine Barfod, Ragnhild Ek, and Anna Glogowski.
Their Algeria is produced by Marie Balducchi of Agat Films & Cie and tells the story of the director's own grandparents unexpected divorce after 62 years of marriage.
Doc Day report
Doc Day's first session included a case study of For Sama, which received a special screening at Cannes. Waad al-Kateab and Edward Watts, the film's co-directors, spoke about their two-year collaboration to shape the story, which started with more than 300 hours of footage that al-Kateab had shot while living in Syria.
The film, backed by Channel 4 and PBS/Frontline, will get a cinema release in various territories before its broadcast premiere in late 2019. Erika Howard, impact producer at PBS, noted that the US theatrical launch in Los Angeles and New York in July will be an important part of the PBS strategy.
Salma Abdalla of Autlook films said that international distributors had been hotly pursuing the title after its Cannes screenings and in fact she had offers for the film coming in on email while she sat on the panel.
Al-Kateab and Watts were thankful for the attention Cannes has brought to the film, and the plight of Syrians still living under horrible conditions. They said that Cannes delegate general Thierry Fremaux had even encouraged them to redisplay their "stop bombing hospitals" signs when they got to the top of the red carpet steps.
At her morning talk Yolande Zauberman, director and president of the l'Œil d'or jury – presented to the best documentary in Cannes – said, perhaps jokingly, that the reason Cannes doesn't present more documentaries in Competition is that when they are included they tend to win over the fiction films (past winners of the Palme d'Or include Fahrenheit 9/11).
In one of the afternoon sessions, Lindsay Crouse, coordinating producer for the New York Times Op-Doc series, and Horia El Hadad, documentary producer for the Witness strand at Al Jazeera English, shared insights into their role as high-profile media outlets supporting documentary filmmaking.
The two have differing models, with Op-Docs – which was created under the umbrella of the New York Times' opinion section in 2011 – primarily active as a platform that negotiates a stipend for short documentaries to run on its platform. Crouse said they require an online premiere and a 30-day exclusive window, as well as joint copyright in perpetuity.
El Hadad and the Witness team at Al Jazeera generate enough content to fill two slots per week of between 10 and 25 minutes in length on Al Jazeera, and like the Times, reaches a global audience. The deep-pocketed broadcast outlet is able to fully finance as well as co-produce and acquire.
El Hadad described the films created for Al Jazeera's Witness strand as "character-led, observational documentaries with a resolution" and noted that the internal tagline the team used in selecting and shaping projects was "radical empathy".