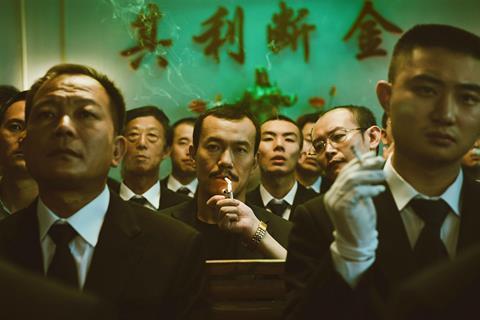 Jia Zhangke will present a recut version of his Cannes Palme d'Or contender Ash Is Purest White at its North American premiere in the Masters section of the Toronto International Film Festival (Sept 6-16), its Paris-based sales company mk2 films has announced.
The contemporary tale of love and survival, starring Zhao Tao as a small-town bar owner whose passion for a local mobster changes the course of her life, has been trimmed by six minutes, mk2 films has revealed.
"Jia decided to go back to the editing room after Cannes, as he felt it wasn't quite finished for him yet, the second half in particular. As he did for his previous two films. We are very proud to be presenting this final version of Ash at TIFF," Juliette Schrameck managing director of mk2 films, who is a co-producer on the feature.
The film has sold well since its world premiere in Competition at Cannes, where Screen critic Allen Hunter praised it for the way in which it captured the "jolting seismic shifts in 21st-century Chinese society that are viewed through the bittersweet ebb and flow of an epic love story."
mk2 films also confirmed a slew of sales on the picture ahead of its TIFF screening. As previously announced, Cohen Media have taken US rights and Films We Like is handling Canadian distribution.
It has also sold to the UK (New Wave), France (Ad Vitam), Germany and Austria (Neue Visionen), Italy (Cinema), Spain (Golem), Benelux (Cherry Pickers), Switzerland (Filmcoopi), Portugal (Midas Filmes), Poland (Against Gravity), Greece (Ama Films), Former Yugoslavia (MCF Megacom), Turkey (Fabula Films), South Korea (Sycomad), South East Asia (Astro Shaw) Brazil (Imovision), Argentina (Mont Blanc Cinema), India (In2Infotainment Media) and inflight (Encore).
The Huayi Bros will release in China in the autumn while Bitters End scooped up Japanese rights.
"We are thrilled to be partnering with such a large number of international distributors, Jia Zhangke is one of the world's truly great filmmakers and with Ash he delivers another profound and riveting look at China" says mk2's Fionnuala Jamison.
Strong TIFF presence
The company also announced sales on Japanese director Ryusuke Hamaguchi's romantic mystery tale Asako I & II, which will also screen at TIFF in the Discovery Section.
It has sold to the US (Grasshopper), Canada (mk2 mile end), Benelux (September), Portugal (Leopardo), Former Yugoslavia (MCF Megacom), Poland (Aurora), China (Times Vision), Hong Kong (Edko), South East Asia (Astro Shaw), South Korea (All that Cinema), Taiwan (Andrews), Brazil (Zeta), and airlines (Encore Inflight).
The feature – in which a shy young woman falls for two men with wildly different characters but identical looks – also premiered in Competition in Cannes.

Other TIFF titles on the mk2 films slate include Cannes best director award winner Cold War by Pawel Pawlikowski, which is co-sold with Protagonist Pictures; Tom Volf's Maria Callas documentary Maria by Callas: In her Own Words, and Platform closing film Jessica Forever by director duo Caroline Poggi and Jonathan Vinel.
The company will also market screen Mikhaël Hers's third feature Amanda, following its premiere in Venice's Horizons line-up. mk2 films describes the drama – starring Vincent Lacoste, Stacy Martin and 10-year-old newcomer Isaure Multrier, as "a delicate and moving story of resilience in post-terrorist attacks Paris."
New York Film Festival
mk2 films will also have a strong presence at this year's New York Film Festival (Sept 28 – Oct 14) where it has five titles including Christophe Honoré's coming of age romance Sorry Angel.
Since its world premiere in Competition in Cannes in May it has sold to the US (Strand Releasing), UK (Thunderbird), Benelux (Cineart), Switzerland (Xenix), Germany and Austria (Salzgeber), Greece (Seven), Italy (Teodora), Norway (Tour de Force), Baltics (Must Kasi), Former Yugoslavia (MCF Megacom), Hungary (Cirko), Poland (Tongariro), Australia and New Zealand (Palace), Japan (Kino Films), South Korea (The Coup), Taiwan (Filmware), Brazil (Imovision) and Mexico (Canibal).
Produced by Paris-based Les Films Pelleas, the film is set in Paris in 1993 as a student and writer embark on a whirlwind romance against the backdrop of the AIDS crisis.