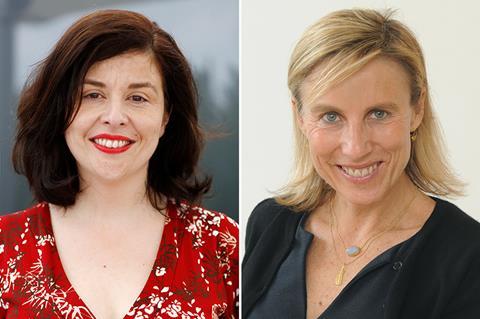 France's Collectif 50/50, the body which spear-headed the festival gender parity charter as well as the Cannes 82 women red carpet protest last year, has launched a new initiative to investigate the gender split of cinema critics in association with European Union's MEDIA programme.
"Just as the festivals are important gatekeepers so are the critics," said Delphyne Besse, one of the co-founders of the Paris-based body. "They remain the first port of call for advice on films. There's a lot of unconscious bias and it's always the same, old white males who voice an opinion that ends up being the most followed."
Besse was talking at Creative Europe MEDIA's Women On The Move event in Cannes on Sunday (May 19). MEDIA programme chief Lucia Recalde said the aim was to coordinate research on critics with gender equality groups across Europe, with perhaps the first pan-European study being released at the Venice Film Festival in August.
Screen's own research reveals that of the 23 critics of the three main English-language trade papers, including Screen, reviewing films in Cannes until May 19, just 39% (nine) were women.
Of the 32 reviews for Competition titles posted online by the three trades as Screen went to press on Sunday night, 11, or 34%, had been reviewed by female critics. In the case of the US-based trades, just 24% of their competition reviews had been done by women.
Collectif 50/50 has kicked off the initiative with an investigation into the published reviews for films released in France between May 2018 and April 2019. Of the 611 journalists who wrote at least one review during that period, 37% were women, lower than the national average of 47% for all the journalists holding an official press card in France.
Of the 10,602 reviews published over the period, 31% were written by women and 58% were by men. For the remaining 11%, it was not possible to ascertain the gender of the reviewer.
Going deeper into these findings, Besse said the data showed female reviewers were more likely to work for TV or women's interest magazines rather than influential general titles or publications specialising in culture and cinema.
"The number drops drastically to 25% for specialised magazines," she said. "We need more diverse voices to express opinions on film."
Creative Europe MEDIA's day-long Women On The Move also featured seminars on the progress of gender parity initiatives so far, a discussion good practices for the industry and policymakers in the EU and also unveiled new data on the gender of applicants for its funding, as well as success rates.
According to MEDIA data covering 2014 to 2018, female professionals accounted for 28.21% of funding applicants and had a 52.12% success rate, against 51.84% for male applicants, who made up the remaining 71.19%.
Across professions, 191 female producers had won funding, against 323 male producers over the period; while 800 female distributors had won support against 2,203 male distributors.
The Women On The Move day was among a raft of events devoted to improving gender parity in the film industry taking place in Cannes over the weekend.
On Saturday, Time's Up and Women In Film & TV International (WIFTI) issued a joint statement calling on the film industry to step up its actions to achieve gender equality, in order for the goal of 50:50 representation by 2020 to be achieved.
"Festivals, organizations and companies all over the world have joined the movement for gender parity, and a lot of positive action has been taken. But with little over six months to go, what is really needed to achieve true gender parity?" their statement read.
They outlined a series of action points across all parts of the development to distribution chain.
"Producers: hire women in all departments; directors: work with women at every chance you get, and make sure you create those chances! Writers: write about women, write with women, write for women," their statement read.
"Agents: represent women, pitch women and people of colour – even when it's not specifically called for. Financers: invest in women, give women the same second chances that men get. Executives: hire women – everywhere, all the time. distributors: buy films made by women, and put them on screens – big and small. Media: Cover films made by women."