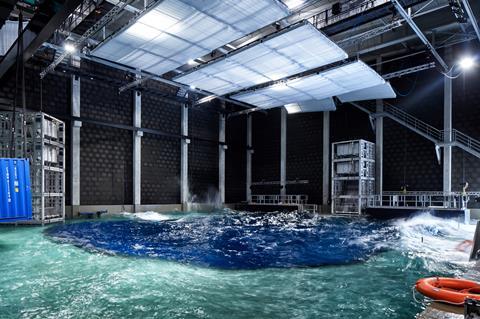 A new €23m ($25.8m) film studio has opened outside Brussels, Belgium, with a water stage that can shoot both underwater and dry scenes at once.
Lites Water Stage & Film Studios in Vilvoorde has five different stages – three larger stages and two smaller ones – and will look to take in productions of all sizes, from blockbuster films to smaller shoots and TV.
Speaking to Screen, Lites CEO Wim Michiels said he expects projects that need water shoots to form their primary business, but that the dry stages also have all the functions required for a feature film.
The studios' water stage – which it claims is one of the first of its kind – includes a 21x24 metre tank with a depth of nine metres. It was built for about 40% of the total cost of the studios – about €9.2m (about $10.3m).
Features within the tank include an infinity unit which allows the creation of an underwater view of the ocean; and two moveable platforms, which can adjust the working depth of the pool. The platforms also allow for a dry set weighing up to 20 tonnes to be constructed above water, and then completely submerged to a required depth. This means the stage can shoot interior flooding scenes, as well as scenes set on water.
Michiels said, "These effects are not new, but in most cases they are built for one feature film. We have built this to be a standard tool in our studio, so more productions can use it in a more efficient way, because it's already tested and safe."
The water pool has a surface area of 1,250 square metres, while the two large dry stages are sized at 1700 square metres and 1200 square metres respectively.
The new site also includes services required to run a production, including dressing rooms, production offices, catering services and on-site accommodation.
The Studios has taken its first bookings to shoot later this year. Michiels could not reveal exact projects, but said the films to shoot on the water stage included "an oil drilling platform that sinks and people die" and "a plane that crashes into the water, leaving half the people floating at sea".
Lites was originally established in 1992 by Michiels as a rental company for filming equipment. The company is making the move into the studio business with the support of Belgium's Agency for Innovation and Entrepreneurship (VLAIO).