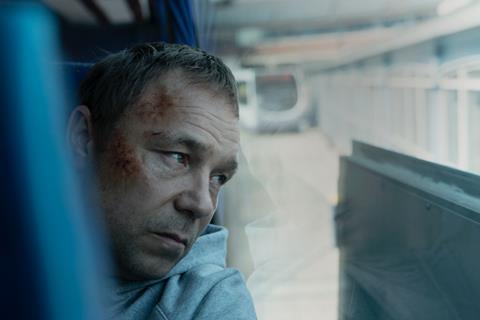 Shane Meadows and Jack Thorne's four-part English-language drama The Virtues took the top Grand Prix award at TV festival and industry event Series Mania (March 22-30) in the northern French city of Lille over the weekend.
Lead actor Stephan Graham was also feted with the best actor award for his performance as the troubled, alcoholic protagonist who returns to his family home in Ireland to confront the roots of his problems.
The drama was produced by the UK's Warp Films and Big Arty Productions for Channel Four.
US screenwriter and producer Marti Noxon presided over the international Series Mania jury which also included US actress Julianna Margulies and Canadian director Daniel Grou (aka Podz) as well as actress Audrey Fleurot, novelist Delphine de Vigan and director Thomas Lilti, all from France.
"From the first frame, The Virtues moves you with its deep humanity. Masterfully directed, written and acted, the show is a prime example of the power of series television to illuminate and create empathy," the jury said in a statement.
They described Graham's performance in the show as "simply stunning", adding "his powerfully raw portrayal of a man coming to grips with his past and himself is truly heart-breaking."
In other awards, the special jury prize went to Nir Bergman and Ram Nehari's Israeli social drama Just For Today, revolving around the closure of a halfway house facility for recently released prisoners. It is an Endemol Shine Israel production for Israeli broadcaster Yes TV.
The jury praised the show for giving "a wonderful window into an often, unseen world."
The best actress prize was awarded to Marina Hands for her performance in comedy drama Mytho as a devoted mother and wife who becomes caught up in a web of lies and deceit. The show also picked up the audience award. It is written by Anne Berest and directed by Fabrice Gobert (The Returned). It was produced by Unité de Production and Arte France, for broadcast on Arte as well as Netflix.
In the French competition, Gaia Guasti and Aurélian Molas's fantasy mermaid tale Apnea, starring Laetitia Casta, won the best series prize.
The jury consisting of international critics and journalists praised the show for its ambition, originality and stunning photography.
It was directed by Julien Trousselier and produced by Image et Compagnie and ARTE France for broadcast in France and Germany on ARTE as well as an Amazon Prime Video in France.
Carole Weyers won best actress for her performance in the quirky police drama Super Jimmy as a police captain with an imaginary partner.
The best actor prize in the French competition went to Grégory Montel for his performance in Family Shake as man trying to navigate life in a reconstructed family as he builds a life with his new partner.