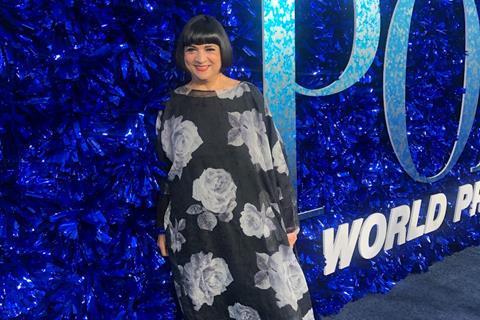 Rose Ganguzza, the New York producer of summer release Fatima, has unveiled a Rose Pictures development slate that includes new work from the directors of How To Build A Girl and Grudge.
Ganguzza, a veteran of the independent space whose producing credits include Margin Call and Kill Your Darlings, has partnered on the content pipeline for 2021 with Max Born, a producer The Devil All The Time, and Jake Alden Falconer, a producer on summer horror film 1BR.
As Fatima – the film released by Bob and Jeanne Berney's Picturehouse – ranks in the top two DVD drama purchases on Amazon following a US summer drive-in tour and PVoD launch, Ganguzza is busy lining up a development and production fund to support her slate and future titles.
Coming up for 2021 is Claire Van Kampen's (Broadway's Farinelli and the King, Nice Fish) feature debut It Never Entered My Mind, a drama about the abstract expressionist painter Elaine de Kooning and her fellow artists Willem de Kooning, Jackson Pollock and Lee Krasner.
The project, based on Cathy Curtis's biography, A Generous Vision, is expected to shoot in New York City in spring, pandemic allowing. Ganguzza has the blessing of the artist's estate and production will be based in Elaine de Kooning House in East Hampton, and will also shoot in Brooklyn and Greenwich Village.
The slate includes Mary's Monster from Coky Giedroyc (How To Build A Girl, Harlots, The Hour), which will explore how Mary Shelley battled her demons and wrote Frankenstein, based on a screenplay by Deborah Baxtrom. Production has been earmarked for the UK and Italy.
Nicolas Pesce (The Eyes Of My Mother) makes his follow-up to 2020 horror remake Grudge with The Paradox Man, based on Ray Bradbury's sci-fi story The Toynbee Convector.
Roman Nights will focus on playwright Tennessee Williams and his muse and acclaimed Italian stage actress Anna Magnani, based on the off-Broadway play by Franco D'Alessandro. Fatima director Marco Pontecorvo will direct.
Rounding out the slate are psychological thriller Ever There, which is targeting a Wales shoot and hails from a screenplay by David Caudle based on the Pied Piper operation to evacuate British children during the Second World War; and an adaptation of Marco Tiano's horror books La Bambinaia (The Nanny) that is being eyed as a potential franchise and will see back-to-back production on the first two entries in Sicily.
"Assembling a slate of films during a pandemic is very complicated, but we are enormously excited to announce these thought-provoking and dramatic stories that we are developing," said Ganguzza. "We look forward to jumping into production as soon as safety precautions allow."
Alden-Falconer added: "In Rose Ganguzza, Rose Pictures has a tireless stalwart of emerging talent, working with new filmmakers behind such films as Afterschool to Margin Call to Poms. We are excited to continue this tradition with our 2021 slate."
Rose Pictures is expanding into television and will announce further details soon.