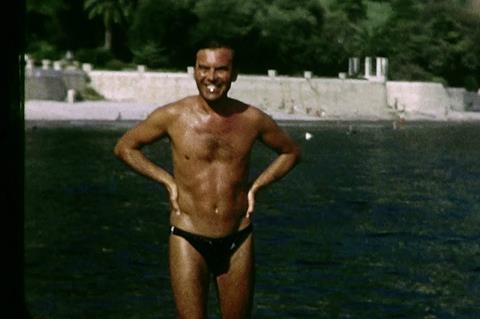 The New York Film Festival has unveiled a Spotlight on Documentary section that includes North American premieres for Nick Broomfield's My Father and Me and Nanni Moretti's Santiago, Italia and a US premiere for Michael Apted's 63 Up.
The festival, presented by Film at Lincoln Center and running from September 27 to October 13, will also include world premieres for Lynn Novick's College Behind Bars and Abbas Fahdel's Bitter Bread.
The full Spotlight on Documentary line-up:
45 Seconds of Laughter
Tim Robbins, USA. US premiere
A group of inmates at the Calipatria State maximum-security facility take part in a series of acting exercises conducted by Los Angeles theatre troupe The Actors' Gang.
63 Up
Michael Apted, UK. US premiere
The latest installment of Michael Apted's British film series finds participants more introspective than ever at age 63, coming to terms with death and illness and the disappointments of a fractured England.
Bitter Bread
Abbas Fahdel, Lebanon/Iraq/France. World premiere
Fahdel settles in with a community of refugees, most of them children, living in a tent camp in Lebanon's Beqaa Valley.
The Booksellers
D W Young, USA. World premiere
The esoteric community of rare book dealers and collectors who, in their love of the delicacy and tactility of books, are helping to keep the printed word alive.
Born to Be
Tania Cypriano, USA. World premiere
Soon after New York state passes a law that health insurance should cover transgender-related care and services, Cypriano goes behind the scenes at New York's Mount Sinai Hospital to capture the emotional and physical journey of surgical transitioning.
Bully. Coward. Victim.The Story of Roy Cohn
Ivy Meeropol, USA. World premiere
An unflinching look at the life and death of Roy Cohn, the closeted, conservative American lawyer whose first job out of law school was prosecuting filmmaker Meeropol's grandparents, Julius and Ethel Rosenberg.
College Behind Bars
Lynn Novick, USA. World premiere
Follows a handful of ambitious and inspiring incarcerated students - most of them serving time for serious crimes - as they debate and discuss history, mathematics, philosophy and science and simultaneously navigate the difficulties and cruelties of prison life.
Cunningham 3D
Alla Kovgan, Germany/France/USA. US premiere
Charts choreographer Merce Cunningham's artistic evolution over the course of three decades and immerses the viewer in the rhythms and movements of his choreography through a 3D process that allows us to step inside the dance.
Free Time
Manfred Kirchheimer, USA. World premiere
Meticulously restored and constructed 16mm black-and-white footage that Kirchheimer and Walter Hess shot in New York between 1958 and 1960.
My Father and Me
Nick Broomfield, UK. North American premiere
About Broomfield's relationship with his humanist-pacifist father, Maurice Broomfield, a factory worker turned photographer of vivid, often lustrous images of industrial post-WWII England.
Oliver Sacks: His Own Life
Ric Burns, USA. US premiere.
Partly shot before his death in 2015, this portrait covers Sacks from his childhood with a schizophrenic older brother, to his years as a champion bodybuilder and motorcycle aficionado, to his accomplishments as a neurologist.
Santiago, Italia
Nanni Moretti, Italy. North American premiere.
Italian director Moretti chronicles the efforts of the Italian Embassy to save and relocate citizens targeted by the fascist regime in seventies Chile.
State Funeral
Sergei Loznitsa, Netherlands/Lithuania. US premiere
Ukrainian filmmaker Loznitsa uncovers a wealth of mostly unseen archival footage of the 'Great Farewell' in the days following the death of Joseph Stalin in March 1953.