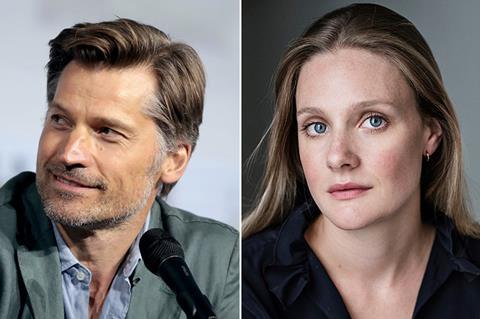 Game Of Thrones star Nikolaj Coster-Waldau and Romola Garai are to star in gothic horror Virtue, on which HanWay Films is to launch sales at the upcoming EFM.
It will be directed by UK filmmaker Joanna Coates, who won best British feature at the Edinburgh Film Festival in 2014 for her romantic drama Hide & Seek, and is written by Sam Hoare, whose credits include feature Having You and Netflix miniseries The English Game.
The production aims to start shooting at the end of Q3 this year.
Set in 1350 England, Coster-Waldau plays a heroic knight back from war with his teenage son and companion at arms. Finding their homeland ravaged by plague and social unrest, they prevent a witch-burning before vowing to rescue Fraya (Garai), the latest villager to vanish into a haunted forest of which the locals are terrified.
Garai is known for her roles in Atonement, Suffragette and more recently Lucile Hadzihalilovic's Earwig.
Producer is Alex Cook for 10 08 Films and Coster-Waldau, Steve Bakken and Joe Derrick for Ill Kippers. Executive producers include HanWay Films, James Brown and Matthew James Wilkinson.
Further titles on HanWay's slate include Noora Niasari's Shayda, which won an audience award at Sundance last month; Paul Schrader's Venice title Master Gardener; Robert Connolly's Blueback, which also screened at this year's Sundance; Jerzy Skolimowski's Cannes award-winner and Oscar-nominated EO.