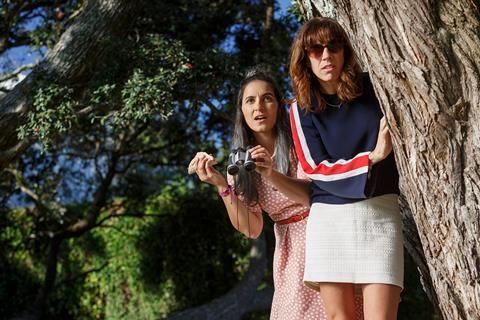 Scandinavian distributor NonStop is moving into development and co-production, with its first project set as a Swedish-language remake of 2018 New Zealand hit The Breaker Upperers.
The original film was written, directed by and stars Jackie van Beek and Madeleine Sami. It was produced by Piki Films's Carthew Neal and Taika Waititi alongside Miss Conception Film's Ainsley Gardiner and Georgina Conder.
The story is about two women who are cynical about love and run an agency that helps break up unhappy couples. When one of them grows a conscience, it threatens to derail their friendship.
The Swedish-language option deal was brokered by Carthew Neal and Emily Gotto on behalf of Piki Films, and by Jakob Abrahamsson and Melina Maraki on behalf of NonStop Entertainment.
Earlier this year, Maraki was promoted to development executive at NonStop, as the company expands beyond distribution into feature-film development and production. The company isn't yet planning to be the lead producer on projects, but will be an initiator and IP holder of its co-productions.
NonStop is planning to hire a Swedish production team as well as casting "two brilliant female leads" for the remake.
The original film premiered at SXSW and went on to become a box-office hit in New Zealand and Australia for Madman Entertainment and Piki Films; it is now available on Netflix.
"This is no doubt a great time to initiate a smart, funny and commercial female-led Swedish version of this New Zealand smash hit," said Jakob Abrahamsson, CEO of NonStop Entertainment. "This also marks the first step in our new endeavour to be more active as originator and co-producer of Scandi films with breakout potential, which we think is becoming more and more important to remain relevant in this day and age."


Piki Films' Neal added: "We are thrilled that the broad comedy of The Breaker Upperers has resonated with audiences around the world. We have always admired Swedish comedies and can't wait to bring the remake to the Nordic region."