Plus: Travis Reid named RealD COO; BAFTA sets VR advisory group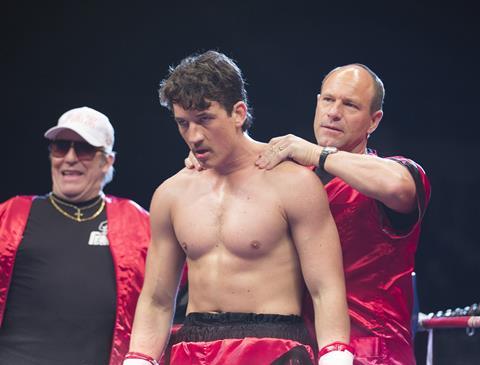 Open Road Films will expand awards hopeful Bleed For This wide on November 18 after it opens in limited release on November 4.
Miles Teller stars as Vinny "The Pazmanian Devil" Pazienza, a boxer from the East Coast who overcame a near-fatal car crash to return to the ring for a world title bout.
Aaron Eckhart also stars in a performance that has drawn strong notices. Ben Younger wrote and directed, while Martin Scorsese served as one of the executive producers.
The Solution Entertainment Group handles international sales.
BAFTA has appointed members to its virtual reality advisory group to debate and determine the short and long-term impact of the format on the film, TV and games industries. Members are: Dan Ayoub, Frank Azor, Joel Breton, Bradley Crooks, Nonny de la Penna, Clive Downie, Chris Edwards, Garry Edwards, Dan Gregoire, Matt Jeffrey, Simon Jones, James Knight, Deborah Kolar, Shawn Layden, Peter Levin, Patrick O'Luanaigh, Kim Pallister, Robin Prybil, Yelena Rachitsky, Sol Rogers, Ted Schilowitz, David Sproxton, Roy Taylor, Kathy Vrabeck, Jon Wadelton.
Skybound Entertainment, led by Robert Kirkman and David Alpert along with business partner Jon Goldman,will expand their Los Angeles-based multimedia entertainment company with the opening of their Skybound North office in Vancouver. Former LucasFilm Animation executive Catherine Winder will lead the operation.
The Film Independent hierarchy said on Tuesday that the 2017 Film Independent Spirit Awards will be broadcast exclusively on IFC live on February 25, 2017. Nominees will be announced on November 22.
Veteran exhibition executive Travis Reid, who most recently served as president of distribution at Broad Green Pictures, has joined RealD as COO. Reid is based in Los Angeles and will report directly to RealD founder and CEO Michael V. Lewis.
Warner Bros has moved the limited launch of Ben Affleck's crime thriller Live By Night to December 25. Wide expansion remains set for January 13, 2017.
Universal Pictures will release the thriller Get Out, previously known as Untitled Blumhouse Productions Project, on February 2, 2017.
Top brass at the Chicago International Film Festival have added Jackie to the bill and will screen the film on October 17, when director Pablo Larrain will receive the Artistic Achievement Award. In addition, Taraji P Henson will take part in an on-stage conversation following footage from Hidden Figures on October 23. An extra screening of A Quiet Passion has been set for November 19.
First Run Features has acquired Garrett Zevgetis' documentary Best And Most Beautiful Things, a unique coming-of-age story that celebrates outcasts everywhere. The film premiered at SXSW and will open theatrically in December. Preferred Content represented the filmmakers.
FilmRise said on Tuesday it has raised an additional $27m in acquisition funds from Harlan Capital Partners, pushing its acquisition financing over the past year to more than $50m. Recent film buys include The Greasy Strangler, White Girl and The Witness.
Gunpowder & Sky Distribution has picked up US rights from the filmmakers to Atomic Entertainment's documentary 14 Minutes From Earth, about highest sky dive in history. The distributor will release digitally on November 8.
Breaking Glass has appointed Scott A Motisko director of in-house marketing. And public relations, effective immediately. He replaces former head of PR Erika Ayers and reports directly to CEO Rich Wolff.
Paramount Pictures has named Steve Garrett and Joseph Saladino co-general sales managers. They report to president of domestic distribution Kyle Davies.