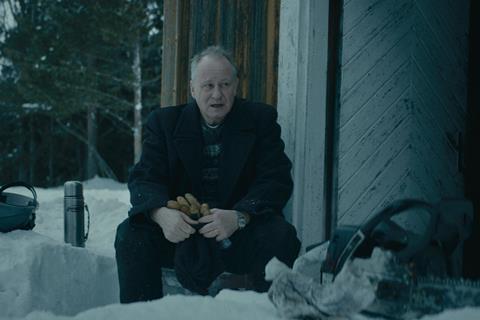 Norway has chosen Hans Petter Moland's flashback drama Out Stealing Horses as its submission for the best international feature award at the 2020 Oscars.
The film launched in Competition at the 2019 Berlinale, where it won the Silver Bear for outstanding artistic contribution for Thomas Hardmeier and Rasmus Videbæk's joint cinematography.
The story is split between 1999, where self-isolated Trond discovers a new neighbour from his past, and Trond's memories of 1948, when he turned 15 and his father prepared him for his forthcoming disappearance.
It is an adaptation of Per Petterson's acclaimed 2003 Norwegian novel of the same name, which won prizes including the prestigious €100,000 Dublin IMPAC award, one of the richest literary awards in the world.
Acclaimed Swedish actor Stellan Skarsgård and newcomer Jon Ranes play the older and younger versions of Trond, with Tobias Santelmann, Danica Curcic, and Pål Sverre Hagen also on the cast.
TrustNordisk is handling sales on the title, with multiple deals already struck including for Germany and German-speaking Europe (MFA), China (DD Dream International Media), Benelux (September Film Rights), Italy (Minerva Pictures Group and Russia (Russian World Vision).
Screen exclusively revealed the film's first trailer in January this year.
It was chosen from a shortlist of three films, alongside Dag Johan Haugerud's Beware Of Children and Eirik Svensson's Harajuku.
The Norwegian Oscar committee consists of eight representatives from the country's film industry and is headed by Norwegian Film Institute CEO Sindre Guldvog.
Out Stealing Horses is Norway's 41st submission to the foreign-language Oscar award; the country has five previous nominations, most recently for Joachim Rønning and Espen Sandberg's Kon-Tiki in 2013, but is yet to win.