Norway's submission to the upcoming Academy Awards' Best Foreign-Language Film category will be Roar Uthaug's disaster movie The Wave.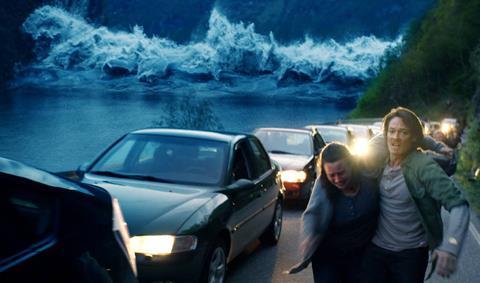 The Norwegian Oscar Committee have decided to enter The Wave (Bølgen) as the country's official candidate for nomination for the Best Foreign-Language Film Oscar at this year's Academy Awards.
The film beat competition from Henrik Martin Dahlsbakken's Returning Home (Å Vende Tilbake) and Anne Sewitsky's Homesick (De Nærmeste).
Dubbed Norway's 'first disaster movie', The Wave is based on the real-life 1934 tsunami that hit Norway's Tafjord, leaving 40 people dead.
Kristoffer Joner, Ane Dahl Torp, Jonas Hoff Oftebro and Fritjof Såheim star in the film, which is director Uthaug's fourth feature.
The film was written by John Kåre Raake and Harald Rosenløw Eeg and produced by Are Heidenstrom and Martin Sundland.
"[The Wave] is a genre film with a well-written script, superbly directed, with great acting performances, the committee believes that it will make an impression in the Oscar race," said Sindre Guldvog, chairman of the Norwegian Oscar Committee and CEO of the Norwegian Film Institute.
The Wave opened domestically on August 28, seeing over 130,000 admissions in its opening weekend, the third best result ever for a Norwegian film.
The film will play at the Toronto Film Festival (Sept 10-20) before travelling to the London Film Festival (Oct 7-18) in October.