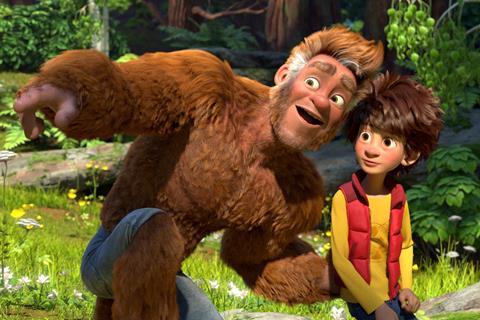 An animated feature based on the story of Don Quixote is in production at Brussels-based animation studio nWave Pictures, scripted by two of the screenwriters behind Toy Story.
Alec Sokolow and Joel Cohen have written the feature, which will be directed by Jérémie Degruson and has a budget between €15m ($18m) and €20m ($24m).
The original screenplay first surfaced more than 10 years ago, titled Q, but nWave founder and filmmaker Ben Stassen told Screendaily that it will be renamed.
"It's about a puppet theatre in New York City where the puppets are taking over because the puppet master is gone," said Stassen of the project. "The main character thinks of himself as Don Quixote so it has a lot of elements of the original Cervantes novel."
Stassen most recently co-directed Bigfoot Family with Degruson, which played in competition at last year's Annecy International Animation Film Festival, and has previous credits including Fly Me To The Moon and The Queen's Corgi.
Bigfoot Family, sold by Charades, has been acquired by Netflix for the US, UK, Australia and New Zealand, and will be available on the streaming platform from February 26. It marks the first time nWave has sold a film directly to Netflix.
Belga Film Fund brought €5m ($6m) to the project, which received a theatrical release in territories including France, Benelux, Russia and South Korea from August 2020 and has taken $9.2m at the box office to date.
Sony deal
It was also announced this week that nWave has joined forces with Sony Pictures International Productions on Chickenhare And The Hamster Of Darkness, based on the Dark Horse comics. With a budget between €20m-€25m ($24m-$30m), its marks nWave's biggest project to date.
Belga Film Fund, headed by veteran financier Fabrice Delville, again brought €5m to the production.
Stassen will co-direct the 3D-animated adventure film alongside Benjamin Mousquet, with international sales handled by Matthieu Zeller's Octopolis. It is just over two years since Zeller's production group, MZM, took over a majority share in nWave.
"We stumbled on a script that they [Sony] had," said Stassen. "Studios develop a lot of films. Some end up being great later on but are not produced at the studio itself. We read it, we loved it and we asked Sony – who had put it on hold – if we could take over. They said yes."
Sony Pictures Entertainment France will distribute the film in France, and also have home entertainment and digital rights in the territory. Sony Pictures Entertainment will also be granted the opportunity to acquire remaining territories, in a deal secured with the producers.
Octopolis has already pre-sold territories including Belgium (Belga), Poland (Monolith Films), Russia and CIS (Volga) and South Africa (Filmfinity).