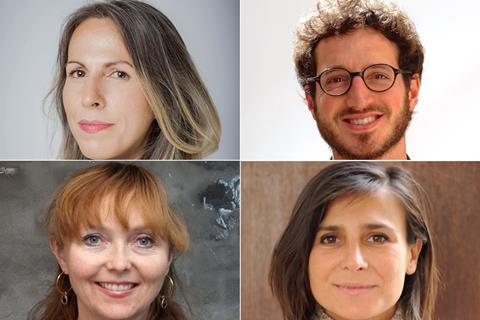 The Paris-based European Producers Club (EPC) has launched a gender equality charter for its members aimed at encouraging equal pay, opportunity and representation for women behind and in front of the camera.
The document addresses four key areas of interest: sexism and harassment, equal pay and access to responsibilities, talent and content.
The EPC is encouraging its 130 members to sign the charter on a voluntary basis and is also hoping national and European film institutions that work with its producers will also come on board too.
Its obligations range from arranging staff training around best practices to deal with sexism and sexual harassment to striving for gender parity on artistic, technical and management teams to ensuring equal pay and opportunities for all staff, regardless of their gender.
On content, the charter calls on signatories to refrain from conveying gender stereotypes in their productions and to ensure there is gender balance in terms of the characters or non-fiction subjects, where storylines permit.
The charter, which can be read in full on the EPC website, is the fruit of 18 months of consultations between the club's 130 producer members and grew out of the heightened awareness around gender inequality sparked by the rise of the #MeToo movement at the end of 2017.
"It might seem we're late to this but an exercise like this takes time and we think it's better to come out and try to implement a properly drafted charter now than do nothing at all," said EPC president Gudny Hummelvoll of Hummellfilm in Norway.
Work on the charter was driven by a working group led by British-Italian producer Paula Vaccaro at the UK's Pinball London and Pascal Guerrin, managing director at Paris-based production house Bonne Pioche, which Yves Darondeau and Emmanuel Priou created in 1993 to defend a positive and humanist editorial line.
"The charter is a guiding light for where we should be going as an industry that has been historically non-inclusive of females, very white," said Vaccaro.
She emphasised the significance of the move for the EPC.
"For a club which was created in 1993 by 23 white men, this is a big step. If you look at the evolution, in 2018 we had 35 female producers and today we have 46 out of 130," said Vaccaro. "To change the old boys' club of any institution is a very long process and I am proud we've reached this point as a female producer who entered the EPC some years ago,."
A similar charter pioneered by Bonne Pioche acted as the blueprint for the EPC accord. Guerrin spearheaded the gender equality charter at Bonne Pioche after listening to talk on inclusion riders by Vaccaro during an EPC meeting at Cannes in 2018.
"Given the ethos of the company and the fact around 70% of the staff were female at the time I thought we were doing well but after listening to Paula's a talk I realised the picture was not so great," he recalls.
"Then, in preparation for a big company seminary that we ran in November 2018, I created a box and asked for ideas to organise the working sessions, and so many of them were around gender equality… We spent nine months to come up with a charter. It took a long time as it was written with a lot of hands," he said.
Since then, the ratio of men to women in key management positions at the company has become more balanced and whenever a position is advertised care is taken to interview candidates of both sexes.
The company – which makes a lot of non-fiction productions – has also sought to diversify its crew, which has traditionally been male and white. Ensuring gender equality and diversity in it content is more of a challenge, Guerrin suggested, and an issue is still trying to address.
EPC managing director Alexandra Lebret said the new charter is the first step in the club's drive to become more inclusive and diverse at all levels.
"We're very conscious of all the work that needs to be done in terms of inclusion and diversity so this drive will not stop with gender," she said.