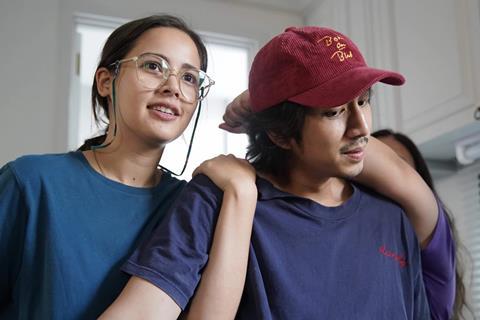 Thai romantic comedy Fast & Feel Love is set to open New York Asian Film Festival (NYAFF), where lead actress Urassaya Sperbund will receive the Screen International Rising Star award.
NYAFF's 20th anniversary edition will take place from July 15-28 and Sperbund, who is also known as Yaya, will be presented with the award on opening night at New York's Lincoln Centre.
Directed by Nawapol Thamrongrattanarit, the film follows a world champion of sport stacking – played by Nat Kitcharit – who must learn basic adulting skills after being dumped by his girlfriend (Sperbund), while fending off younger challengers and finding a way to win her back.
Leading Thai production and sales outfit GDH 559 is selling Fast & Feel Love at Cannes' film market and the feature will receive its international premiere in NYAFF, having been released in Thailand on April 6 where it had taken $581,000 at the box office as of May 17.
"This is the perfect film for an opening that marks a true return to theatres as well as NYAFF's 20th anniversary," said Samuel Jamier, executive director of NYAFF and president of the New York Asian Film Foundation.
"Nearly as fast-moving as its sport stacking protagonist, it hits all the right notes, from broad humour to poignant drama, and gives every character a show-stopping moment or two - as well as hilarious and clever cinephile moments. As the film says, sport stacking is genderless, ageless and border-free, which is a real game-changer."
Sperbund is known for roles in popular TV series and films such as Witthaya Thongyooyong's Brother Of The Year and has modelled for Vogue and Cosmopolitan as well as being one of the "Friends of Louis Vuitton".
"Yaya, already an established star in the region, takes it to another level here with her impeccable comic timing and genuine moments of emotion, and of course this most rare of qualities: screen presence," said Jamier of the actress.
"In this respect, giving her the Screen International Rising Star award makes perfect sense and is also a precedent in that we're giving it to a star who is rising higher than where she was, rather than a star-to-be."
Fast & Feel Love is produced by Bangkok-based Happy Ending Film and writer/director Thamrongrattanarit is known for features such as Die Tomorrow, which played at the Berlinale in 2018, and feature debut 36, which won the New Currents award when it premiered at Busan in 2012 before going on to screen in competition at International Film Festival Rotterdam.