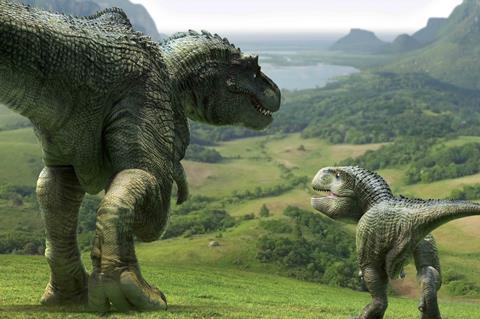 Ahead of the Asian Film Market (Oct 14-17), Sydney-based Odin's Eye Entertainment (OEE) has picked up international sales rights to 3D CGI dinosaur adventure Dino King: Journey To Fire Mountain.
The Sydney-based sales company has also quickly done pre-sales deals on the animation to Russia/CIS and Baltics (MeGoGo Distribution) and Middle East (Phoenicia).
The Middle East and Russia/CIS/Baltic deals were negotiated by OEE's Michael Favelle and Martin Gallery respectively.
Currently in the final stages of post-production, Dino King: Journey To Fire Mountain is a family action adventure which centres around devoted but overly critical father Speckles, a ferocious Tarbosaurus (known as the Asian T-Rex), and his young son Junior.
OEE says the film combines "the realism of Walking With Dinosaurs and the rescue/action of Taken with the heart of Finding Nemo".
It is produced by animation studio Dream Search C&C and Educational Broadcasting System (EBS) in Korea and Hengsheng Group in China.
The Korean-language animation is dubbed in Chinese and English and will get wide releases in key territories.
Dino King: Journey To Fire Mountain is a spin-off from sleeper hit Speckles The Tarbosaurus (released as Dino King – An Amazing Adventure in the US). The original was the second local animated feature in Korea to break the one million admissions mark at the box office, and sold to 37 countries.
The producers aim to make the Dino King brand a global franchise with plans including expansion to live performance, toys and TV/SVoD series.
"We are incredibly excited to this addition to our now extensive animation slate. We are always on the lookout for universally accessible franchises with strong family values and Dino King fits this brief perfectly," said OEE founder and CEO Michael Favelle.
OEE will continue sales on the title at Busan's Asian Film Market and have the completed feature ready to screen at the upcoming American Film Market in Santa Monica.