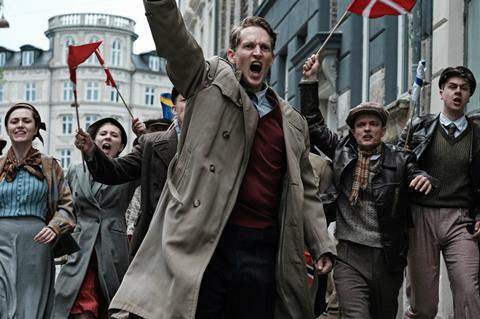 Australia's Odin's Eye Entertainment has snapped up worldwide sales rights for Danish box office hit Into The Darkness (AKA De Forbandede År), an epic family saga set against the backdrop of Second World War and directed by Anders Refn (the Danish director and editor who has collaborated with Lars Von Trier on films from Breaking The Waves to Nymphomaniac).
Refs has described Into the Darkness as "a labour of love, ten years in the making, unearthing a fascinating story about Denmark's involvement in WW2 that has never been told on film before."
The film, produced by Lene Borglum and Nicholas Winding Refn's Space Rocket Nation, sat at the top of the Danish box office for 4 weeks in January this year, achieving almost 300,000 admissions, outperforming major studio titles such as 1917, Bad Boys For Life, JoJo Rabbit, Doolittle, Knives Out and Ford v Ferrari.
This is the first title from the new collaboration between the Sydney-based Odin's Eye Entertainment and Copenhagen-based Space Rocket Nation. Finance is currently being raised for David Sakurai's action feature Enforcer, set to go into production later this year.
The film is set in 1940's Denmark. War is raging throughout Europe, expanding out of control with no end in sight. Denmark, while declaring herself neutral at the start of the war, is occupied by Hitler's Third Reich in 1940, the consequences of which drive a wedge between members of the Skov family, particularly Karl (James Bond's Jesper Christensen), the successful owner of a vast electronics factory and his son Aksel (future star Mads Reuther), who reacts against the increasing oppression and persecution of Jews and communists by joining the rising resistance movement.
Odin's Eye's Head of International Sales and Distribution Martin Gallery commented, "Anders and Lene have been involved in many of my favourite Danish films, some of which are my favourite films full-stop! I and the Odin's Eye team are proud to be working with them on features such as Into The Darkness, already a proven box-office winner."