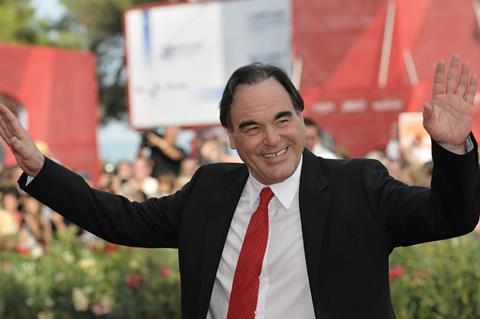 Award-winning US filmmaker Oliver Stone is set to head the 22nd Busan International Film Festival (BIFF)'s jury for New Currents, the competition section for up-and-coming Asian directors.
The winner of Oscars, Golden Globes and a Berlinale Silver Bear for directing films such as Platoon and Born On The Fourth of July, Stone was recently at the Sarajevo film festival to receive an honorary award and screen a showcase including his latest documentary, The Putin Interviews.
Speaking with Screen there, he expressed concerns about the US stance on North Korea and the possibility of doing a project focused on the hermetic country.
Stone will be joined on the BIFF jury by Kurdish-Iranian director Bahman Ghobadi, whose films include Cannes Camera d'or winner A Time For Drunken Horses and No One Knows About Persian Cats, which won the Cannes Un Certain Regard Special Jury Prize ex-aequo.
Jury members also include César award-winning French cinematographer Agnès Godard (Beau Travail, Bastards); Filipino director Lav Diaz, whose films such as Melancholia and The Woman Who Left earned him top awards from festivals including Venice and Locarno; and Korean New Wave director Jang Sun-woo, known for works including controversial S&M film Lies, Berlin-awarded The Avatamska Sutra (aka Hwa-Om-Kyung) and Gwang-ju massacre film A Petal.
The jury is an impressive one in a tumultuous year that so far has seen BIFF lose its deputy director and executive programmer Kim Ji-seok, who died of a heart attack at Cannes. Meanwhile, the festival's two heads, organising committee chairman Kim Dong-ho and festival director Kang Soo-youn, announced earlier this month that they will resign after this edition wraps.
BIFF will run from Oct 12-21, 2017.