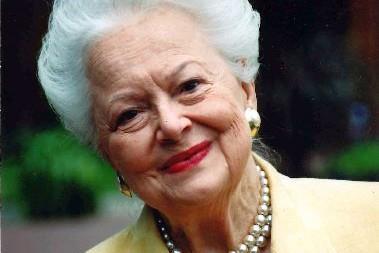 Olivia de Havilland, the double Oscar winner and one of the last icons of Hollywood's Golden Age who starred in Gone With The Wind, has died from natural causes at her home in Paris. She was 104.
de Havilland lived in France for more than 60 years and enjoyed a peaceful life away from the screen in the last 30 years.
In demand throughout the early stages of her career ever since she came to the attention of Hollywood in the 1935 version of A Midsummer Night's Dream, de Havilland landed plum roles and earned the respect of her peers and the industry.
Away from the screen she was fiercely intelligent and possessed of a fierce will.
She endured an acrimonious relationship with her sister, the actor Joan Fontaine, and took on the studio system and established a ground-breaking ruling in favour of her profession.
De Havilland was born in Tokyo in 1916 to British parents. When their parents split up their mother intended to return with her daughters to England, however they ended up settling in California.
After de Havilland started acting she landed a seven-year contract with Warner Bros that led to a role in Captain Blood in 1935 opposite Errol Fynn. The pair appeared in a number of adventure films together and later in life both admitted publicly to romantic feelings for one another, however Flynn's marriage had prevented anything from happening.
De Havilland played Melanie Hamilton in 1939's Gone With The Wind opposite Vivien Leigh and Clark Gable and earned a supporting actress Oscar nomination. She won lead actress Academy Awards for To Each His Own in 1947, and for The Heiress in 1950.
A first lead actress nod for Hold Back The Dawn in 1942 saw her lose out to Fontaine for Suspicion. The sisters were estranged for many years after de Havilland married writer Marcus Goodrich in 1946, yet de Havilland expressed sadness when her youngster sister died in 2013 aged 96.
Besides her acting skill and notable roles like The Heiress and The Snake Pit, for which she earned another lead actress nomination in 1949, de Havilland will also be remembered for her no-nonsense stance with Hollywood paymasters.
She was suspended by Warner Bros multiple times for refusing to accept roles that did not appeal to her, and fought the studio in the courts after brass tried to stop her from leaving at the end of her contract, insisting she stay on to make up for time lost during the suspensions.
The legal wrangle kept de Havilland off the screen for three years but she prevailed when a California appeals court ruled a personal service contract be limited to seven years. Many in Hollywood including Bette Davis expressed admiration for her fortitude after the legal victory helped cement actors' rights in the face of what had been the overwhelming might of the studio system.
Within two years of the court ruling, de Havilland won both her Oscars.
After her marriage to Goodrich ended in the early 1950s, she married Paris Match senior executive Pierre Galante in 1955 and moved to France, when the roles began to dry up. They divorced in 1979 but remained on amicable terms.
Career credits include My Cousin Rachel and Hush, Hush Sweet Charlotte opposite Davis, as well as Romeo And Juliet on Broadway, and an Emmy nod for one of her last roles in the 1986 miniseries Anastasia: The Mystery Of Anna.
De Havilland stopped acting in the late 1980s, preferring a quiet life in France. She was made a Dame in 2017.
She is survived by her daughter Gisele Galante Chulak.