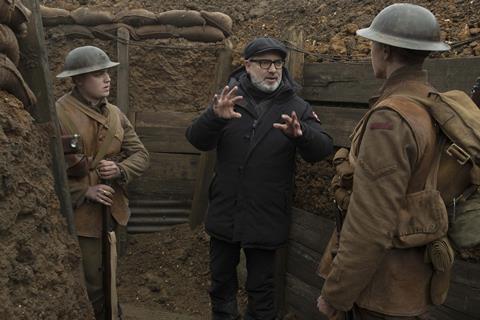 UK talent is well represented across the 2020 Oscar nominations with war epic 1917 among the leading contenders.
Sam Mendes' 1917 has secured 10 nominations, including best picture, and ties it with Once Upon A Time… In Hollywood and The Irishman, while Joker leads the pack with 11 nods.
London-based Neal Street Productions is behind the First World War feature, told in what appears to be one continuous shot.
As well as its British director, other UK talent recognised by the Academy in the nominations for their work on the film include Roger Deakins for cinematography; Olivier Tarney for sound editing; and Naomi Donne, Rebecca Cole and Tristan Versluis (born in Zimbabwe but based in the UK) for makeup and hairstyling.
The film was written by Mendes with Scottish screenwriter Krysty Wilson-Cairns and the filmmaker also shares a producer credit for best picture with Pippa Harris, Jayne-Ann Tenggren and Callum McDougall.
In addition, set decorator Lee Sandales was nominated in the production design category alongside 1917's Canadian production designer Dennis Gassner.
Acting talent
UK actors are represented across all four categories with Jonathan Pryce and Anthony Hopkins nominated for leading actor and supporting actor respectively for The Two Popes.
Screen Star of Tomorrow Florence Pugh has received her first Oscar nomination in the supporting actress category for her role in Little Women while her co-star Saoirse Ronan is up for leading actress alongside London-born Harriet star Cynthia Erivo. Ronan was born in New York but grew up in Ireland.
Nominated for best documentary, For Sama is produced by the UK's Channel 4 News, ITN Productions and Channel 4 alongside Frontline PBS. The film follows journalist and mother Waad Al-Kateab as she raises her young daughter during the Syrian Civil War. She co-directed the film with English filmmaker Edward Watts.
In costume design, London-born Sandy Powell has been nominated for her work on The Irishman (alongside Christopher Peterson) while Jacqueline Durran has been nominated for Little Women. Both Powell and Durran are previous Oscar winners.
In makeup and hairstyling, UK talent Paul Gooch and David White have been nominated for their work on Disney sequel Maleficent: Mistress Of Evil. Jeremy Woodhead has also received a nod in the category for his work on Judy. The Judy Garland biopic was produced by London-based Calamity Films and received one other nomination for leading actress Renée Zellweger.
Rocketman, the Elton John biopic produced by the UK's Marv Films and Rocket Pictures, received just one nomination for original song. '(I'm Gonna) Love Me Again' was written by Elton John and Bernie Taupin.
UK producer David Heyman is nominated twice in the best picture category for Marriage Story and Once Upon A Time… In Hollywood.
Liverpool-born Chris Butler was recognised in the animated feature category with a nomination for Missing Link, which he wrote and directed.
In the documentary short category, UK film Learning To Skateboard In A Warzone (If You're A Girl) has been nominated. The short is produced by London-based Grain Media, directed by Carol Dysinger and produced by Elena Andreicheva. It is also up for British short film at the Baftas.