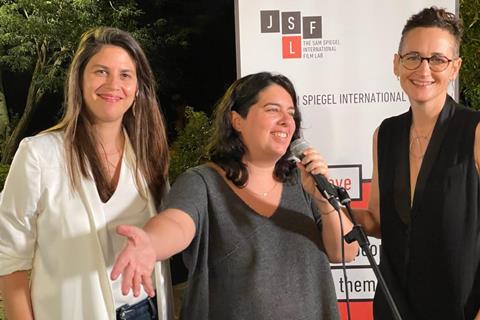 Israeli filmmaker Netelie Braun has won the ninth edition of the Sam Spiegel International Film Lab for Oxygen, the tale of a mother who takes drastic action when her son volunteers for active duty in Lebanon.
It will be writer and director Braun's first fiction feature after documentary Hope I'm In The Frame, about pioneering female director Michal Bat-Adam, and a number of short films including The Hangman, about the man who hanged Nazi war criminal Adolf Eichmann.
Braun describes the feature as "a political film, a call for revolution" exposing "the collective repression of mothers in Israel" and questioning whether military action is the answer to the country's conflicts.
It is produced by Adi Bar Yosef, who works under the banner of her company Baryo and whose recent credits include Cinema Sabaya, Scaffolding and Shake Your Cares Away.
In other awards, the lab's Emerging Filmmaker Award went to two projects, Cypriot director Myrsini Aristidou's father-and-daughter drama Iris and Brazilian filmmaker Marianna Brennand Fortes' Sisters, about two sisters living in the shadow of sexual abuse in a poverty-stricken community in the Amazon region.
Israeli director Odeya Rosenak scooped the inaugural Factory 54 Artistic Vision Award for her semi-autobiographical Seven Chapters In Survival about a young girl whose mother and step-father send her on a survival camp in the hope it will help her get over a traumatic experience. Marek Rozenbaum, whose recent credits include The Death Of Cinema And My Father Too, produces.
The lab, which returns after a two-year hiatus due to the Covid-19 pandemic, has taken place mainly online over the course of the last nine months but the final pitching session, running August 27-28, was a hybrid event with live pitching in Jerusalem as well as online participation.
Tribeca Film Festival artistic director Frederic Boyer presided over the jury also featuring WestEnd Films managing director Maya Amsellem, French producer Sandrine Brauer (Compagnie des Lamas), Aranka Matits at acquisition and co-production consultancy Featurette, and Ziv Naveh, director of Israel's Gesher Multicultural Film Fund.
A total of 12 projects took part in the ninth edition of the lab, which ran across nine months. It marked producer Aurit Zamir's first edition at the helm, following her appointment in 2020 as its director to replace founder and long-term head Renen Schorr.
The mentors comprised Germany's Thomas Hailer, the UK's Clare Downs, Israel's Eran Riklis and France's Jacques Akchoti. This year's edition also featured masterclasses by directors Alma Harel, Debra Granik and Eliza Hittman.
The lab has supported more than 100 projects to date since its creation in 2011 including Hungarian filmmaker Laszlo Nemes's Oscar-winning Son Of Saul, Israeli director Dani Rosenberg's The Death Of Cinema And My Father Too and Georgian director Dea Kulumbegashvili's San Sebastian Golden Seashell winner Beginning.