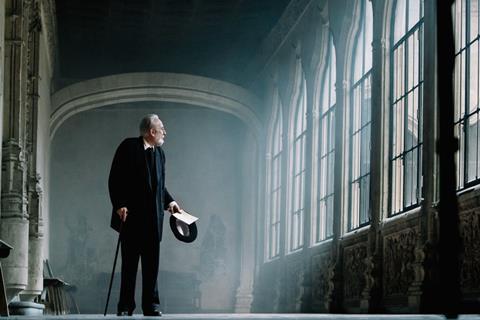 Alejandro Amenábar's While At War leads the nominations for Spain's 34th Goya Academy Awards but will face-off against Pedro Almodóvar's Pain And Glory at the ceremony on January 25 in Malaga.
Scroll down for full list of nominations
Amenábar's Spanish Civil War drama has secured 17 nominations while Almodóvar's semi-autobiographical film has 16 nods.
While At War has proved a box office hit following its debut at Toronto, ranking as Spain's third highest-grossing domestic film of 2019 and taking more than $11.3m to date.
Pain and Glory was regarded as a return to form for Almodóvar and has been submitted by Spain for the Oscars. Its nominations include five acting nods, including Penelope Cruz and Antonio Banderas, who won best actor in Cannes.
Another strong contender is The Endless Trench, directed by Basque trio Aitor Arregui, Jon Garaño, Jose Mari Goenaga, which secured 15 nominations.
The film, which debuted at San Sebastian, also deals with the Spanish Civil War and the people who hid in their own homes for more than 30 years to escape execution by the Franco regime.
The best film category is rounded out by Benito Zambrano's Out In The Open and Oliver Laxe's Fire Will Come, which won the jury prize in Un Certain Regard at Cannes and includes a best new actress nomination for 84-year-old Benedicta Sánchez.
Full list of nominations
Best Film
Pain & Glory, Pedro Almodóvar
Intemperie, Benito Zambrano
The Endless Trench, Aitor Arregui, Jon Garaño, Jose Mari Goenaga
Fire Will Come, Oliver Laxe
While At War, Alejandro Amenábar
Best Director
Pedro Almodóvar, Pain & Glory
Aitor Arregui, Jon Garaño and Jose Mari Goenaga, The Endless Trench
Oliver Laxe, Fire Will Come
Alejandro Amenábar, While At War
Best New Director
Salvador Simó, Buñuel And The Labyrinth Of Turtles
Galder Gaztelu-Urrutia, The Platform
Belén Funes, A Thief's Daughter
Aritz Moreno, Advantages Of Travelling By Train
Best Original Screenplay
Pedro Almodóvar, Pain & Glory
David Desola, Pedro Rivero, The Platform
Luisa Berdejo, José Mari Goenaga, The Endless Trench
Alejandro Amenábar, Alejandro Hernández, While At War
Best Adapted Screenplay
Eligio Moreno, Salvador Simó, Buñuel And The Labyrinth Of Turtles
Benito Zambrano, Daniel Remón, Pablo Remón, Intemperie
Isabel Peña, Rodrigo Sorogoyen, Madre
Javier Gullón, Advantages Of Travelling By Train
Best Actress
Penélope Cruz, Pain & Glory
Greta Fernándezri, A Thief's Daughter
Belén Cuesta, The Endless Trench
Marta Nieto, Mother
Best Actor
Antonio Banderas, Pain & Glory
Antonio de la Torre, The Endless Trench
Karra Elejalde, While At War
Luis Tosar, Quien a hierro mata
Best Supporting Actress
Mona Martínez, Adiós
Natalia de Molina, Adiós
Julieta Serrano, Pain & Glory
Nathalie Poza, While At War
Best Supporting Actor
Asier Etxeandia, Pain & Glory
Leonardo Sbraglia, Pain & Glory
Luis Callejo, Intemperie
Eduard Fernández, While At War
Best New Actress
Pilar Gómez, Adiós
Carmen Arrufat, La inocencia
Benedicta Sánchez, Fire Will Come
Ainoha Santamaría, While At War
Best New Actor
Nacho Sánchez, Seventeen
Vicente Vergara, The Endless Trench
Santi Prego, While At War
Enric Auquer, Quien a hierro mata
Best Cinematography
José Luis Alcaine, Pain & Glory
Javi Agirre Erauso, The Endless Trench
Mauro Herce, Fire Will Come
Álex Catalán, While At War
Best Art Direction
Antxón Gómez, Pain & Glory
Pepe Domínguez, The Endless Trench
Juan Pedro de Gaspar, While At War
Mikel Serrano, Advantages Of Travelling By Train
Best Director Of Production
Toni Novella, Pain & Glory
Manolo Limón, Intemperie
Ander Sistiaga, The Endless Trench
Carla Pérez de Albéniz, While At War
Best Editing
Teresa Font, Pain & Glory
Laurent Dufreche, Raúl López, The Endless Trench
Alberto del Campo, Mother
Carolina Martínez de Urbina, While At War
Best Original Score
Arturo Cardelus, Buñuel And The Labyrinth Of Turtles
Alberto Iglesias, Pain & Glory
Pascal Gaigne, The Endless Trench
Alejandro Amenábar, While At War
Best Sound
Pain & Glory
The Endless Trench
While At War
Quien a hierro mata
Best Special Effects
The Platform
The Endless Trench
While At War
Perdiendo el este
Best Animated Feature
Buñuel And The Labytinth Of Turtles, Salvador Simó
Elcano y Magallanes: la primera vuelta al mundo, Ángel Alonso
Klaus, Sergio Pablos
Best Documentary Feature
Ara Malikian una vida entre las cuerdas, Nata Moreno
Aute retrato, Gaizka Urresti
El cuadro, Andrés Sanz
Historias de nuestro cine, Ana Pérez-Lorente, Antonio Resines
Best European Film
Border, Ali Abbasi
Les Misérables, Ladj Ly
Portrait of a Lady on Fire, Céline Sciamma
Yesterday, Danny Boyle
Best Latin American Film
Araña, Andrés Wood
The Awakening of the Ants, Antonella Sudasassi
Heroic Losers, Sebastián Borensztein
Monos, Alejandro Landes