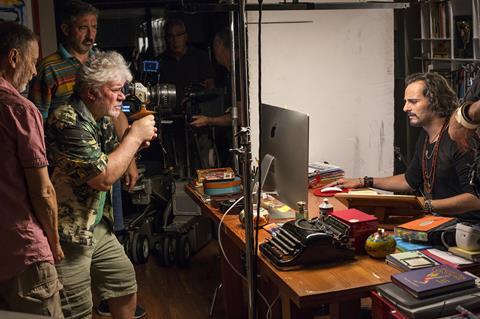 Pedro Almodovar is a Cannes veteran, marking his sixth time in Competition with Pain And Glory, two years after he headed up the Cannes jury (Ruben Ostlund's The Square was his jury's Palme d'Or winner). But the trepidation in sharing the most autobiographical film of his career is still there. He talks to Screen International about the joy of working with Antonio Banderas and Penélope Cruz and the temptation of television.
How does it feel to be in Cannes Competition for a sixth time?
I love Cannes and it's always exciting to be in competition. Being here also gives me a sense of continuity and endurance that is important at my age. I'm not Clint Eastwood and I hope I can get to his age still making films like he does, but I'm old enough to enjoy the fact that I can keep on doing what I did ten years ago and that my films spark interest.
Is Pain And Glory your most autobiographical film?
All my films talk about me, but I'd never made one with a main character that is a film director and that has some of the health conditions I have. It's certainly a film I needed to make. I wouldn't like to describe it as therapy, but after finishing the film I can say it has had a soothing effect. Like the character played by Antonio Banderas, I wasn't sure I'd be able to make another film because of health issues. And not just that, I was worried not to reach the same degree of passion to tell stories that I used to have. Making Pain And Glory has got rid of that insecurity, even if it's just momentarily. The passion is still there for now, that's for sure.
Was it hard setting the limits when it came to exposing such personal matters?
When I started working on the screenplay, I was full of doubt, had a sense of vertigo even, because I'm a very private person. I normally don't even talk to my friends about intimate stuff. I got over it by trying to see myself as the topic of a film of mine. I managed to distance myself enough to be able to work, but I confess I cried writing some of the scenes about the mother. What a kitsch image of a director, right? This doesn't mean that the whole film is autobiographical, though. I haven't done or lived exactly what Banderas' character goes through, but let's say I have travelled the same roads. The relationship with my mother was not exactly how it's portrayed in the film. What's different between the character in the film and myself is that I never felt my mum distanced herself from me, like Antonio's character states, but that feeling does mirror how hard it was for me to feel different as a kid within the family, at school.
This film reunites you with two key actors in your career: Antonio Banderas and Penélope Cruz.
Being in Cannes with Penélope and Antonio makes this occasion even more special because they are part of my life too. Antonio said yes straight away. He understood it was dealing with very intimate material. He knew a lot of the stuff of my life first hand. To prepare the role, I asked him to detach himself of the bravura, the energy that are so linked to his screen persona. His performance is magnificent and I'm very grateful. And Penélope was a natural choice to play the mother – I have always seen Penélope as somebody with maternal instincts. She played a mother in the first film we did together, Live Flesh.
Many well-known filmmakers are now also directing TV series. Are you tempted to try it yourself?
I don't rule it out, but I'm not sure I can deal with some of the rules of the format, like having same-length episodes. If I decide to give it a go, the solution might be to adapt a book of short stories like one by a female writer we recently bought the rights to. Something like that makes me want to consider the possibility of shooting a series, adapting the length of the episode to the length of the original story. But now I'm busy promoting Pain And Glory and in my spare time I will also write the screenplay for a new feature.
Are you any more tempted now to shoot a film in English than you have been in the past?
I'm terrified by the idea but I think I'm getting closer to it. Julieta was meant to be in English and I had talked with Meryl Streep. She was on board but I got restless at the last minute and decided to shoot it in Spain and in Spanish.