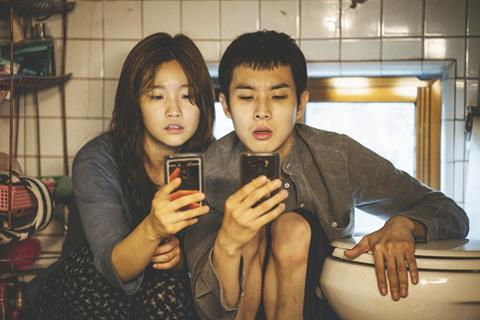 South Korean director Bong Joon Ho's Palme d'Or-winning black comedy Parasite has grossed approximately $2.8m* from 378,000 admissions in France in its first week on release. It opened second in the French chart behind Fox's X-Men: Dark Phoenix which was also released on June 5.
France is the first international territory to release the film after Joon Ho's home territory of Korea, where it grossed $38m in its first week alone, putting it on track to become the biggest Palme d'Or winner of all time at the global box office.
The strong French opening has fuelled expectations Parasite will hit the 1m admissions mark (around $7.5m) in France, which is on a par with the final tally for Abdellatif Kechiche's Blue Is The Warmest Colour. The latter is the most successful Palme d'Or winner at the French box office in the past decade. It drew 1,037.000 spectators for Wild Bunch Distribution in 2013.
Paris-based The Jokers Films opened Parasite on an initial 181 screenson Wednesday June 5. It drew some 55,000 admissions on its first day, for a screen average of 200 spectators, double that of X-Men: Dark Phoenix which was released on 597 screens for an opening day result of some 88,000 spectators.
The Jokers founding chief Manuel Chiche, said good reviews out of Cannes, strong buzz on the social networks and the perception the film was accessible to non-cinephile audiences had boosted the film's performance.
"It's working because it's a really good film which mixes all the genres to create a totally unique work. The Palme d'Or can scare some spectators but word has got out that it's an entertaining film, with wide appeal," said Chiche.
As well as generating good buzz on the social networks among younger generations, Parasite was also going down well in provincial cities across as France as well as in Paris.
"We've received a number of enthusiastic emails from exhibitors in the provinces saying it's been a long time since they've seen something like this," Chiche revealed.
The French release date for Parasite in close proximity to its Cannes premiere was set well in advance of its Palme d'Or triumph.
Chiche said it had been driven by two key factors: Korean distributor CJ Entertainment's move to launch the film theatrically in Korea on May 29, followed by a Korean IPTV release six weeks later, and the desire to capitalise on the power of Cannes as a release launch-pad.
The IPTV release was particularly pertinent for the release in France, explained Chiche, due to the issue of piracy which remains a problem in the territory.
"We're convinced Cannes is an incredible platform for the launch of a film. In addition to this, audiences have changed. They're a lot less patient. They want to see things quickly and are not prepared to wait," he said.
The release date meant the company had to act quickly to develop its marketing materials and ensure all the French press was done during Cannes.
"We were developing the marketing materials simultaneously with the Koreans, cutting our trailers at the same time," says Chiche.
The company has increased the number of copies to 307 screens as of today (June 12) and plans to expand the release to 400 copies next week.
Chiche said the French release of Parasite would be further boosted over the coming weeks by the fact the film had also won the Art House Cinema Award, run by France's arthouse cinema network AFCAE, during Cannes. This guarantees the film a release in its 1,200 member theatres across the territory.
"The film's release will have a very long tail," said Chiche. "It will be in cinemas across France for weeks if not months to come."
Chiche also handled the release of Joon Ho's Snowpiercer, in his previous role as founding chief of Wild Side Films. The film, co-released with Le Pacte, generated some 650,000 admissions in France in 2013.
"Snowpiecer was a completely different, science-fiction blockbuster-style film and that's how we positioned and promoted it," he said. "I think because of Parasite, spectators will go back and explore the rest of his filmography."
Further recent Palme d'Or box office successes in France include I, Daniel Blake (955,000 admissions, Le Pacte), The Tree Of Life (873,000, EuropaCorp), Shoplifters (778,000, Le Pacte) and Amour (767,000, Les Films du Losange).
In South Korea, Paradise had grossed $51m and garnered over 7m admissions as of June 9. It is the third-highest grossing film of the year to date in the territory behind local action comedy Extreme Job ($122m) and Avengers Endgame ($105m).
*As France reports box office in admissions, Screen has reached the dollar gross by multiplying the number of admissions by the 2019 average ticket price, according to the CNC, of €6.64