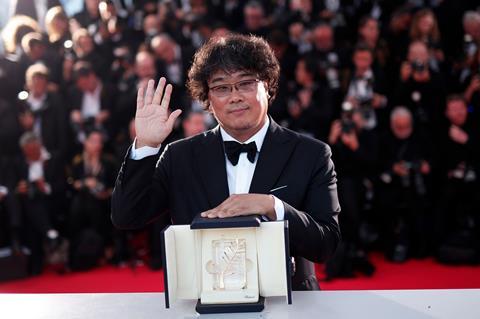 At this year's Cannes Film Festival, a TV show was being discussed by industry professionals almost as much as the films screening on the Croisette, at least in the early days of the festival. Game Of Thrones fans were whipping themselves up into a fervour, both in anticipation of the HBO game-changer's final episode but also scrambling to work out where they could watch it in the early hours of May 20 in order to avoid the fear of spoilers for the remainder of Cannes.
Screen International held its own crack-of-dawn viewing in our office at the Majestic hotel, and when I asked the festival if it would consider putting on an after-hours screening at the Palais, there was an acknowledgement it would certainly generate plenty of goodwill — combined with a simultaneous dismissal that it would ever seriously entertain such a daft idea.
The GOT chatter was not to everyone's liking, but even professionals who would have preferred the focus stay firmly on cinema throughout the festival acknowledged it as representative of the seismic shake-up of the industry. Those blurred lines between film and TV aren't about to sharpen anytime soon and even Cannes doffed its hat to the small screen in granting Nicolas Winding Refn an out-of-competition slot to show two episodes of his Amazon series Too Old To Die Young.
The more significant takeaway from this year's festival, though, was how strongly it rebounded from a difficult couple of years. As ever there were discoveries across every section — no surprises there. But the festival's position as the best place in the world to celebrate and revel in the joy of cinema deeply infused this year's line-up.
There was the thrill that comes when an exciting young filmmaker already known to Cannes and arthouse audiences gets the global uplift that comes with an enthusiastically received Competition premiere, as was the case with Céline Sciamma's Portrait Of A Lady On Fire. There was Quentin Tarantino, putting the after-burners on to finish Once Upon A Time… In Hollywood (his own snapshot of an era when film was ceding ground to television) in time to premiere in the Grand Theatre Lumiere (and while he was in town, popping along to the Palm Dog awards to accept the prize for his film's canine star Brandy). And there was Bong Joon Ho's darkly comic social satire Parasite, the unanimous choice of the Cannes jury for the Palme d'Or, highest score on this year's Screen jury grid. It is a dynamic marrying of arthouse sensibility with well-told yarn that makes the film one of the more robust commercial prospects among recent Palme d'Or winners (it has already grossed more than $38.5m in Korea).
It couldn't have been a more auspicious Cannes return for the Korean filmmaker, not to mention a sweet irony given Bong was last at the festival with Okja — one of the Netflix titles in 2017's Competition that triggered the headline-dominating dispute. This year, Netflix was of course well represented in Cannes, screening Babak Anvari's Sundance premiere Wounds in Directors' Fortnight and sealing deals for Mati Diop's Atlantics and Critics' Week animation I Lost My Body. But its presence was less keenly felt than in recent years, and the festival by and large had the headlines to itself.
That's less likely to be the case at the upcoming European exhibition conference CineEurope in Barcelona, where the streaming platform's determined awards campaign and accompanying theatrical release for ROMA will continue to provoke debate among delegates, particularly around the topics of transparency and windowing. All eyes are now on what Netflix's plans will be for the impending release of Martin Scorsese's The Irishman — like Tarantino, a filmmaker steeped in his love of cinema, the cinema experience and film festivals. Expect Scorsese's latest to turn up at an early fall festival and, if they're subsequently granted the option, expect cinemas to want to book it in their droves.


Screen International's editor, based in London.