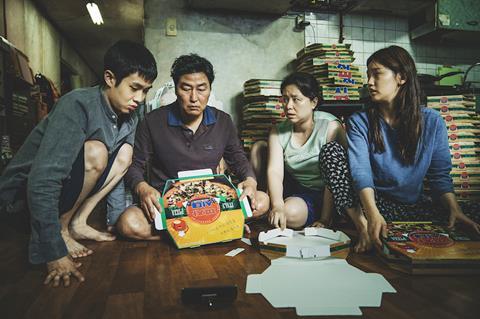 Bong Joon Ho's Palme d'Or-winning black comedy Parasite is on track to become the biggest Palme d'Or winner of all time at the global box office after grossing $38.5m and posting 5.4m admissions in its first week alone in South Korea.
This follows the record-breaking $25m the film grossed over its opening weekend for distributor CJ Entertainment over May 31-June 2. This was the biggest opening weekend for a Palme d'Or winner in any territory in at least 25 years.
Its gross narrowly topped Michael Moore's Fahrenheit 9/11 which grossed $24m for Lionsgate in the US in June 2004. Moore's documentary went on to gross $222m worldwide and revolutionised the theatrical marketplace for feature documentaries.
Quentin Tarantino's Pulp Fiction took $9.3m for Miramax in October 1994 and is the third-biggest opening for a Palme d'Or winner in recent memory.
First South Korean Palme d'Or winner
Parasite was the first South Korean film to win the Palme d'Or and was an overwhelmingly popular choice with critics and festivalgoers. It is Bong's return to Korean-language filmmaking after Okja and Snowpiercer and stars Song Kang Ho in his fourth collaboration with the director as an unemployed man whose family starts to take an unusual interest in wealthy family.
CJ Entertainment has reportedly sold Parasite to nearly 200 territories, including North America (Neon), German-speaking Europe (Koch Films), French-speaking territories (The Jokers Films), Japan (Bitters End) and the UK (Curzon).
Parasite's international roll-out begins in France this weekend and it will open in the US in October. China is the big unknown. A strong performance in the territory would see a Chinese haul in-line with recent international releases including the similarly-themed (and last year's Palme d'Or winner) Shoplifters ($14m) and Nadine Labaki's Capernaum ($52m and counting). However it is understood a China release for Parasite has yet to be set.
Think local, act global
Hirokazu Koreeda's Japanese family drama Shoplifters, which grossed $4.1m in Japan for Gaga in June 2018, garrnered the fourth biggest opening for a Palme d'Or winner in its home territory in the past 25 years. It posted a final worldwide gross of $72m.
The next three big Palme d'Or-openers were all French films opening into what is a traditionally very strong market for Cannes films. They were Laurent Cantet's The Class which took $3.2m for Haut et Court in September 2008, Abdellatif Kechiche's Blue Is The Warmest Colour which opened with $2.3m for Wild Bunch in October 2013, and Roman Polanski's The Pianist which took $2m on its opening for Bac Films in September 2002.
Further winners of Cannes' biggest prize have started modestly at the box office and ended big: Terrence Malick's The Tree Of Life opened with $372,000 from four sites in the US for Fox Searchlight in May 2011 and went on to gross $54m worldwide, Ken Loach's The Wind That Shakes The Barley took an impressive $709,000 for Pathe in the UK in June 2006 and ended with a final worldwide tally of nearly $25m, and Michael Haneke's Amour opened with $429,827 for X-Verleih in Germany in September 2012 and ended up with a worldwide take of $20m.