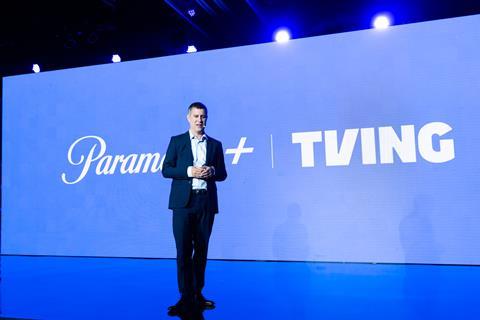 Paramount+ has launched its first service in Asia on South Korean streaming platform Tving, operated by media and entertainment company CJ ENM.
Tving subscribers are now able to watch Paramount+ content at no extra cost.
"The launch of Paramount+ today marks a pivotal moment in our expansion. South Korea is a vibrant market both for a streaming subscription business and for the content that we all know is taking the global stage," said Mark Specht, executive vice president & managing director, Central & Northern Europe and Asia, Paramount, at a press event in Seoul today (June 16).
"We have already launched Paramount+ in Latin America, Australia, Canada and the Nordics, setting the stage for our streaming services to be in nearly 60 total markets by the end of 2022, including South Korea today and the UK next week."
Citing the possibilities in Asia, he also added Korea is the "perfect market" to launch services on the continent, with India set to follow in 2023.
Specht emphasised the launch of Paramount+ content on Tving is only part of the strategic partnership between his company and CJ ENM, which includes co-production of series and films, content licensing and distribution. Paramount and Tving previously announced plans to co-finance seven Tving originals to be introduced to the global market.
Today, they showcased the first of those projects, sci-fi drama Yonder – the first OTT series from King And The Clown director Lee Joon-ik. Starring Shin Ha-kyun, Han Ji-min, Lee Jung-eun and Jung Jin-young, the drama is set in the near future. It follows a man who gets a message from his late wife inviting him to a mysterious place where dead people can live on with their memories through a "brain upload".
The companies also showcased Paramount+ original series Halo, featuring Korean actress Yerin Ha who also presented at the event. The Paramount+ brand category on Tving includes other content such as Super Pumped: The Battle For Uber, Yellowjackets, Mayor Of Kingstown and 1883.