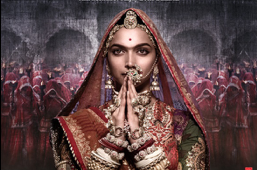 Paramount Pictures will distribute Sanjay Leela Bhansali's Padmavati in international markets outside of India.
The Viacom18 Motion Pictures and Sanjay Leela Bhansali production opens in India on December 1 and will be exclusively distributed internationally by Paramount Pictures.
Padmavati tells the story of Rani Padmavati, the legendary Mewar queen known as much for her beauty and intelligence as she was for her courage; her husband Maharawal Ratan Singh, a glorious Rajput ruler and a warrior king who fought until his dying breath to defend his kingdom and his wife's honour; and Sultan Alauddin Khilji, an ambitious and obsessive invader, who left no stone unturned in his pursuit of Padmavati.
Bhansali became the first Indian to direct an opera in Paris and Rome with Padmavati. The opera made its debut at the 51st Spoleto festival, and will now be retold in cinematic form. Deepika Padukone, Shahid Kapoor, and Ranveer Singh star.
"I am very proud to announce that Paramount Pictures will lead the international release of our epic film Padmavati," Ajit Andhare, COO at Viacom18 Motion Pictures, said. "This is a first ever such collaboration with Paramount Pictures releasing a Viacom18 Hindi feature across international markets. We are breaking new ground with Padmavati and its marketing and release strategy."
Paramount president of worldwide distribution and marketing Megan Colligan said: "We are thrilled to be partnering with Viacom18 Motion Pictures on this exciting new release. Padmavati has all the makings of a hit film and we are excited to bring Sanjay's incredible vision to audiences across the international market place."