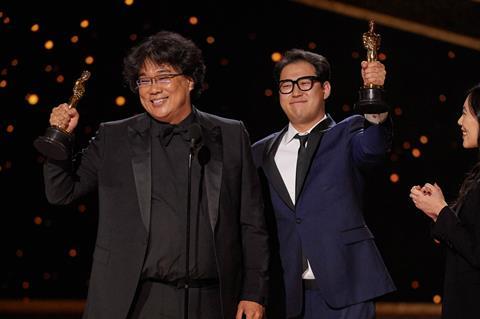 Hot off Parasite's historic Oscar wins, Skydance Media has announced a $275m strategic investment by RedBird Capital Partners and CJ Entertainment and Merchandising (CJ ENM), the studio behind the South Korean phenomenon.
Sources said the investment set Skydance valuation at $2.3bn.
The backing of RedBird, CJ ENM and its production subsidiary Studio Dragon is designed to help David Ellison's company expand its global footprint in film, television, animation and interactive platforms. Skydance's current investor base including the Ellison family and Tencent Holdings Ltd also participated in the investment round.
Skydance aims to collaborate across both studios' libraries to create universally appealing commercial stories and strengthen its presence across the Asia-Pacific region.
Founder and CEO Ellison and president and COO and Jesse Sisgold said the investment would "will help propel us to another decade of exponential growth as we look to shape the future of where entertainment is heading."
CJ ENM CEO Min Heoi Heo said his company was dedicated to "borderless content" and wanted partnerships that would "define the next chapter of the entertainment industry."
Skydance has five features set to premiere this year: Top Gun: Maverick, The Old Guard, Without Remorse, Snake Eyes, and The Tomorrow War. Ellison's company is lining up production starts on the seventh and eighth instalments in the Mission: Impossible film series.